To many, the Class C Toy Hauler is much like the Yeti or the Lochness Monster. Rumors of its existence are spoken in hushed tones amongst RV lovers everywhere – but rarely do they appear in the wild. 
Today, we are here to let you know that not only does the Class C toy hauler exist – it is the ultimate camping machine. Combining ample garage storage with lux living space and cutting-edge technology – the Class C toy hauler is a beastly RV in a class all by itself. 
Since motorized toy haulers are still relatively uncommon on the market today, we're here to answer all your questions about the class C toy hauler. We'll begin with the basics and then get into more specific details as we look at the types of Class C toy haulers on the market today. 
Ready to take a deep dive into the Class C Toy Hauler? Let's go! 
What Is a Toy Hauler? 
When we are talking toy haulers we are traditionally referring to a towable RV that has both a living area and a dedicated garage space for carrying outdoor recreation "toys". The defining feature of the toy hauler is the storage garage with a lowering ramp that allows the owner to easily access their "toys" from the rear of the RV. 
"Toys" are not teddy bears, spaceships, or Hot Wheels that your kids play with. The toys we are talking about are ATVs, motorcycles, mountain bikes, golf carts, canoes, kayaks, or a wide variety of other heavy-duty outdoor equipment.
Bridging residential living with heavy-duty storage capabilities, the front of a toy hauler is made up of the living area – the bathroom, kitchen, and bedroom – while the rear is the storage area for your toys. Toy haulers may also feature "slide-outs", where portions of the trailer slide out when the vehicle is parked to camp to make for additional interior space.
Is There a Class C Toy Hauler? 
Yes. The Class C toy hauler is an all-in-one camping machine that marries luxurious residential living space with plentiful storage space for your biggest and baddest toys. Many campers don't own a truck powerful enough for towing or simply do not want to deal with the complexities of hitching up a trailer to their vehicle. The Class C toy hauler solves this problem (albeit at a hefty price tag). 
RV Rental prices are up 140% since 2019. Don't leave cash parked in your driveway!
Who Makes Class C Toy Haulers?
Currently, Thor Motor Coaches are the primary manufacturers of the Class C Toy Hauler. The Outlaw Class C Toy Hauler is the most popular Class C Toy Hauler with high residential specifications meant for both comfort and utility. 
The Outlaw Class C Toy Hauler is a total dream for RVers who want to travel with all the comforts of home while bringing along their favorite gear. With a cab-over bunk, two fold-down sleeping beds and a queen-size drop-down bunk the Outlaw can comfortably sleep a family of 4-6 (with the garage bed options).
The garage in the Outlaw is 8ft x 8ft which means it can fit some of your biggest toys. The garage is innovative and versatile with a flip-down cabinet that doubles as a great work table. The garage is also fitted with its own AC unit, a BlueTooth radio system, 32" television, and a 12-volt station for conveniently charging your toys.  
For those who like the additional option of being able to entertain on the road, the Outlaw has a fold-down 7ft x 6ft patio area with a manual awning that is perfect for having guests or tailgating at the big game. 
What Kind of Tech Can I Get In the Class C Toy Hauler? 
For tech-lovers, the Class C toy hauler is one of the most high-tech RVs on the market. Featuring everything from 4G WiFi to solar charging systems, you will be blown away by the high-tech features available on this model. 
Here are some of the insane technology specs you can find:
4G Wifi capabilities 
Built-in wireless hotspot
Touch screen dash 
Bluetooth coach radio system
Satellite Radio
Built-in USB charging ports
Solar charging system
Swivel televisions in overhead cab, main bed, and garage
HDMI video distribution box
Exterior television with soundbar
HD/DSS satellite srep
Power charging center for electronics  
High wattage entertainment inverter
Water Filtration System
Power drop-down bunk in garage
Who Is the Class C Toy Hauler For? 
Toy Haulers appeal to a wide range of RVers who love the versatility of a large residential living area with ample storage to haul recreational "toys". Toy Haulers will most appeal to:
Active Outdoor Enthusiasts who relish the opportunity to play with their "toys". The ability to bring along your larger "toys" means you can boat, bike, ATV, dirt bike, and participate in other serious outdoor activities right at your campsite. The best part about the Toy Hauler is that you won't need to stress over expensive rentals. 
Football-loving Tailgaters who like to bring a ready-made party to the stadium. The Toy Hauler garage is the perfect space to hold your tailgating essentials such as full-size BBQ, tents, televisions, chairs, or whatever other supplies you need to throw an awesome tailgate. Some Toy Hauler models utilize the fold-down ramp as an extra patio – the perfect staging area for a party.
Remote Workers who are looking to double their Toy Hauler garage as an office space. As toy haulers get more technologically advanced with features like 4G and lightning-fast WiFi, the separate garage space makes for the perfect remote work environment. Toy Haulers can be outfitted with desks, chairs, and all the other trimmings of a typical office. You can take your office just about anywhere in the world. 
How Much Does the Class C Toy Hauler Cost?
While toy haulers are an amazing option for the outdoor enthusiast, both the towable and the Class C toy hauler can be significantly more expensive than other classes of RV. Traditional towable models can run $20,000-$30,000 more than a similarly-situated trailer without the garage storage space. 
The 2021 Thor Outlaw Class C Toy Haulers 29J model retails at a whopping $136,000. However, on sites like Motorhome Specialists, their inventory includes several Outlaw Class C toy haulers for sale for under $100,000. While this makes the price a bit more palatable, there is no denying that a Class C toy hauler is a sizable investment. 
When looking at any model of RV, you will also need to factor in expenses over and above the sale price of your vehicle. Additional costs you'll want to take into consideration are: 
Vehicle Insurance

will tend to be high with an RV in this price range 

Electricity and Utility

costs can run between $100-$300 with a vehicle of this specification. With a full electronic command system, residential amenities, WiFi, televisions, and other gadgets you will use 

a lot 

of power 

With the massive weight of this vehicle, your fuel costs will be sky-high. Trust us, you will chew through gas 

The mo' RV, the mo' problems you will encounter will

maintenance

costs as time goes by
Pros and Cons of the Class C Toy Hauler
Pros Of The Class C Toy Hauler
Blends luxurious road living with serious storage
Great for adventurous travelers who own their equipment
Garage space can double as an office or additional sleeping area
Fast and easy access to toys from the main cabin  
Keep toys fueled up with integrated fuel station
Cons Of The Class C Toy Hauler
One of the most expensive classes of RVs
High cost to maintain (insurance, fuel, maintenance) 
Less sleeping room than fifth wheels, trailers 
An abundance of tech and gadgets can make for an overwhelming experience 
Final Word on the Class C Toy Hauler
The Class C toy hauler is the ultimate driving machine for luxury and convenience on the road. For campers who don't want to endure the hassle of towing a fifth wheel or trailer, the Class C toy hauler offers the ability to pack up your toys and get on the road at the drop of a dime. 
The major downside? Cost. Due to the size, weight, and high specs of this model, you can expect to pay in the $100,000+ range once all is said and done. While the Class C toy hauler is an incredible vehicle, the hefty price tag will likely put it out of the price range for most beginning RVers.  
Do you own a Class C toy hauler? Let us know by leaving a comment below. 
Easy Travels,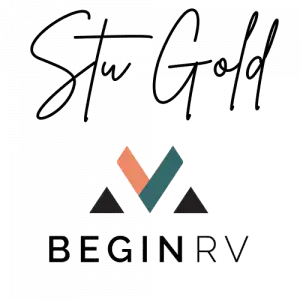 Think the Class C toy hauler may be a bit more RV than you can handle? Check out our article on Campervan rentals!