20 Questions to Ask Before You Hire Mobile RV Repair Service
Streamline your RV repairs and avoid costly mistakes with these 20 tips for choosing the right mobile RV service provider.
Hiring a mobile RV repair technician is an easy and convenient way to make sure your RV or camper is ready for the road. Mobile RV repair mechanics come to you, so you don't have to leave your job or the campground or interrupt your vacation while your RV is worked on.
Yet, with so many mobile RV repair providers out there, choosing a trustworthy service provider can be a daunting task. Simply typing into Google "Mobile RV Repair Near Me" and choosing the top name is a mistake you may come to regret when you end up spending thousands in unnecessary repairs.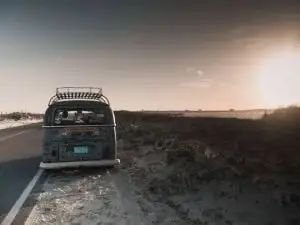 To make sure you don't make an expensive mistake, we are giving you our list of 20 key questions to ask before you use a mobile RV repair service:
Do they specialize in RV repairs?
Do they have good online service reviews?
What is their report with the Better Business Bureau?
Are they part of a national mobile RV repair chain?
Is the mobile RV mechanic properly certified?
How much experience do they have?
What does the RV community say about them?
Does the campground manager recommend them?
Do they have a business license?
Is the mobile RV repair business properly insured?
Is their equipment up to date?
What is their fee structure?
Do they charge for a diagnosis?
Do they accept debit or credit cards?
Can they process your insurance claim?
Do they honor warranties?
How is their customer service?
Do they help you understand your repair needs?
Do they give you a clear estimate?
Do they over or undercharge?
Let's start with #1 … 
#1: Do they specialize in RV repairs?
RVs are pieces of machinery that are far more intricate and complicated than a standard vehicle. Mechanics that specialize in RVs will have dedicated their time and experience to understanding the ins and outs of RVs and so are less likely to make mistakes that will cost you dearly down the road.
#2: Do they have good online service reviews?
Many of the mobile RV repair services featured in our directory have good to excellent ratings on Google. Take a good look at these reviews to determine what kind of service you can expect from a business.  Negative reviews aren't always all-bad. A good service responds to negative reviews and does their best to resolve the complaint. A good business will also thank reviewers for good reviews, showing they care about customer relationships.
#3. Are they in good standing with the Better Business Bureau (BBB)? 

The Better Business Bureau (BBB) is a non-profit organization that rates businesses with a letter grade based on their reliability and business performance. When you look up the name of a mobile RV repair business, you'll be able to see this rating as well as any complaints filed against it and if or how they were resolved. 
The BBB is not an all-inclusive organization. Wise consumers are urged to use them in conjunction with other business rating websites like Yelp and Angie's List to determine the overall reliability of a business. 
#4. Are they part of a national mobile RV repair chain
?
Easy brand recognition encourages consumers to choose national chains. The problem with national chains is their higher employee turnover rate and higher overhead. 
The hiring process costs a lot of money and the job of interviewing new mechanics usually falls to the head technician, meaning less time supervising the mechanics to ensure they're not rushing and doing a job correctly. This added cost trickles down to you and manifests itself on your bill.
#5. Is the mobile RV mechanic properly certified?
A reliable mobile RV repair provider should be a properly certified technician with one of the following certifications:
RVIA (RV Industry Association)

RVDA (RV Dealers Association)

NRVTA (National RV Training Academy)

RVSA (RV Service Academy)
These certifications ensure the technician has the knowledge, experience and hands-on training they need to provide excellent service on your RV.
#6. How much experience do they have?
Professional technicians will have spent years specializing in RV repairs. They can offer the best advice and can clue you in to problems that may arise further down the road.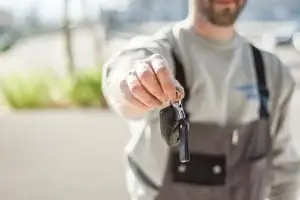 You can find out how much experience they have generally by taking a look at their "About" page on their website or looking at the quality of work displayed in photos.
#7. What does the RV community say about them?
A good mobile RV repair provider will have a good report with your fellow RV dwellers. Don't be afraid to knock on their door and ask them who they would go to in your situation. If anything, they can steer you clear of the scammers.
#8. Does the campground director recommend them?
Many campgrounds have a go-to repairman they rely on to provide their guests with excellent service. Even if they don't allow repairs on site, they are usually more than willing to refer you to a repair service or shop that offers reasonable fees. Some mobile RV repairmen go so far as to offer a discount with the guests of campgrounds they regularly service.
#9 Do they have a business license?
Legitimate businesses here in the U.S. are required to carry a business license. A good mobile RV repair service will not hesitate to give you their business license number. If they do, then they are likely not trustworthy.  
Once you have this number you can plug it into the BBB's (Better Business Bureau's) website to look at their BBB rating and find out if they have any open complaints against them. 
Keep in mind the BBB is not infallible. It helps to check other resources to determine the true trustworthiness of any business.
#10. Is the mobile RV repair business properly insured?
Sensible businesspeople are wise enough to know that no matter how much experience a mechanic has, mistakes happen. While you are on the phone, don't hesitate to ask if the mobile RV repair service is properly insured. 
Be sure to also ask what their policy is in case mistakes do happen. The last thing you want is to pay for someone else's error out of your own pocket!
#11. Is their equipment up to date?
The real pros will show up to work in clean work vehicles and carry an array of well-kept tools and up-to-date diagnostic equipment. 
You should be able to tell this from looking at their website photos, but it never hurts to ask. Technicians who take pride in their work love to talk about their latest equipment!
#12. What is their fee structure?
This is usually the first question everyone wants to know! Ask if the mobile repair provider charges a flat rate and/or mileage. 
Expect to pay a little more if the technician needs to drive a great distance to reach you. The best mobile RV repair businesses list their fees up front on their website or over the phone, but most do not.
#13. Do they charge for a diagnosis?
It takes a mobile RV technician time and mileage to come to you, and you're responsible for paying it. Make sure to ask if there is a fee for diagnosing a problem.
An excellent service will spend as much time on the phone with you to try and diagnose your issue. It also helps to ask if you can pick up a part yourself and have it ready for when the technician arrives. 
Better yet, you may discover you can fix the problem on your own – saving you BOTH time and money!
#14. Do they accept credit or debit cards?
The internet is littered with scam companies that want cash-only for their services or to buy parts. Then they don't show – leaving you high and dry with a broken vehicle and an empty wallet!
Never pay cash for mobile repairs. With a credit or debit card you can dispute a transaction or stop a payment should the company fail to deliver the promised work.
#15. Can they process your insurance claim?
If you have insurance on your RV, it will really help your pocketbook to ask if the mobile repair service can process your claim. Not all small businesses are equipped to handle claims with all insurance companies.
#16. Do they honor all/any warranties?
RV repairs are expensive. Hopefully, you still have an active warranty. Not all small businesses are capable of honoring warranties, so this is something you will need to ask about. 
If your repair is covered under warranty, you'll want to file it with the warranty issuer BEFORE you have your RV serviced. Otherwise, you'll have to wait for the repair company to reimburse you, which could take several days or sometimes weeks.
#17. How is their customer service?
Great customer service equals great business. It means that the repair company cares for their customers and is committed to their work. 
A good mobile RV repair service will respond quickly to inquiries, they will listen to your problems over the phone, respect your requests, and follow up with you to make sure you were satisfied with their work and make sure you have no further issues. 
There is nothing more frustrating than a rude receptionist, one who skates around questions or who constantly upsells products and services you don't need. You don't have to go with these types of businesses – stick to the ones who gladly treat you like family.
#18. Do they help you understand your repair needs?
A good mobile RV repair service will evaluate your problem and take the time to explain what the issue is, detailing each step of the repair process and the materials necessary to resolve it. 
Write these details down and then stick with them. This prevents you from paying extra for unnecessary repairs.
#19. Do they give you a clear estimate?
A good repair mechanic or technician will give you an estimate listing all repairs and parts that are needed, as well as costs. Keep this with you and be sure the technician sticks to this estimate when they come to you to do repairs.
When getting your estimate, also ask them about how long it will take them to make the repairs and if there are any parts you can pick up yourself (provided you can find them cheaper). 
#20. Do they charge fair price?
Always shop around and compare prices when you can. Although the goal is to get the best "bang for your buck," services that offer unbelievably low prices are just as bad if not worse than those that overcharge. 
Businesses that are undercharging will likely shortchange you in quality as well. They may be using parts that are improperly refurbished, or they may not take the proper amount of time to do a job right the first time. Again, this will cost you more in the long run. 
Find A Trustworthy Mobile RV Repair Provider
With RV repairs being so expensive and scammers on the rise, it's only sensible to take the time to research and ask questions before settling on a mobile RV repair service. Your RV is your baby, and your baby deserves the best service within your budget!
In summary, the questions you should always ask are:
Are they a legitimate business?

Professional technicians will carry an updated business license and have good standing with the BBB.

Do they have a great reputation?

If the locals, neighbors and campground managers trust their work, you probably can, too!

Are the fees reasonable?

 Including labor, mileage, flat rates and diagnostic charges. 

Do they accept credit/debit cards?

Businesses who insist on cash-only are trying to scam you.
We hope this article helps you select the right mobile RV repair for your needs. If you have any questions, comments or recommendations – please leave a comment below. 
As always, easy travels.