RV awning lights are the perfect way to set the camping mood at your campsite. They have been around for a long time but have changed significantly over the years. So what are the best RV awning lights for your camper? We tell you here!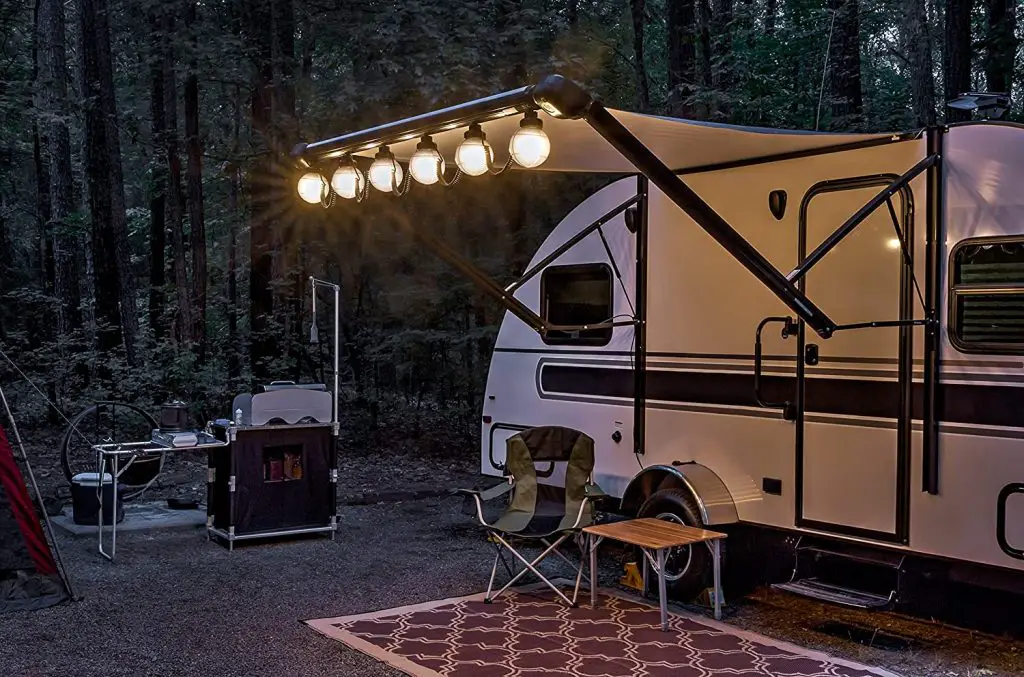 After the sun sets and the campfires are lit is when many of our favorite memories take place. RV awning lights add to the cozy camping feeling we love.
Most RVs come with an awning light of some sort. Many are clear LED strips that run the length of your awning; some are colored or color-changing lights installed by the manufacturer. While these awning lights are very common on newer RVs, some do not come with awning lights and many RVers like to add some hanging lights.
Affiliate Disclosure: As an Amazon affiliate, we may earn commissions from Qualifying Purchases from Amazon.com
Different Types of RV Awning Lights
There are lots of options when it comes to choosing awning lights. Generally speaking, there are 2 varieties of RV awning lights:
LED strip lights
Hanging lights
RV LED strip lights can be purchased separately and installed or upgraded to a different color or lights with multiple colors or blinking patterns. This light style stays in place so the awning can be extended and retracted without removing them. Because of their location in the awning, they don't hang or interfere with any space under the awning.
The other type of RV awning light is hanging lights. These lights come in a wide variety of colors and shapes and hang from the edges of the awning. A downside of hanging lights is that they must be installed and uninstalled each time your awning is opened or closed.
Both styles of lights are very affordable and easy to install. Some people like the clean style of the strip lights while others prefer the fun hanging style. You'll be able to find both varieties in clear or colored options – so whether you want a calm bistro feel or some bright hanging pineapples, there are RV awning lights perfect for you.
Installation of Strip Lights
If your RV came with strip lights in the awning, replacing them or upgrading to a different one will be pretty easy. The wiring will be there already, eliminating the need of having to route wires and drill holes.
The replacement lights you buy may be designed to slide into the same groove in the awning that the factory one is installed in. If not, your new LED strip lights will likely be attached to the RV using adhesive. Ensuring the contact surface is clean and dry is the most important part of this process.
If your RV didn't come with awning lights, the process would be more involved. Depending on the lights you choose and your RV setup there will be some wiring and routing of wires involved. Be sure to follow the installation instructions and if you're not confident, get some help with the wiring steps.
The Best RV Awning Lights for Your Camper
With tons of options for both strip and hanging lights, choosing your new RV awning lights should be easy. We could only choose a few to highlight here so we went with something for everyone. Once you decide between strip or hanging, you can then look at colors, shapes, and flashing patterns that you like.
When choosing RV awning lights, make sure to check for certification of safety and that the lights are fully waterproof. Most are made of plastic and this is the only way to go since they will be stored and moved around continuously.
Name
Brightown Outdoor String Lights 50FT - LED String Lights G40...
Bluetooth Compatible
ASAHOM RGB Outdoor String Lights Color Changing, 48FT...
LYHOPE Solar Outdoor String Lights, 2 Pack Total 40ft 60 LED...
Sustainable Company
MPOWERD Luci Solar String Lights + Phone Charger: White 18'...
Waybelive LED RV Lights, 16.4Ft Remote Control RV Awning...
Photo
Name
Brightown Outdoor String Lights 50FT - LED String Lights G40...
Photo
Bluetooth Compatible
Name
ASAHOM RGB Outdoor String Lights Color Changing, 48FT...
Photo
Name
LYHOPE Solar Outdoor String Lights, 2 Pack Total 40ft 60 LED...
Photo
Sustainable Company
Name
MPOWERD Luci Solar String Lights + Phone Charger: White 18'...
Photo
Brightown Outdoor LED String Lights
Brightown makes quality outdoor lighting products that look great and are durable. These Brightown Outdoor LED String Lights are waterproof and shatterproof and are perfect for outdoor RV use.
Easily encircle your entire RV's awning perimeter by adding additional sets with 25 sockets per set. These light sets are also dimmer compatible so you can adjust the brightness to your mood. These string lights come with an inline fuse for protection and so a blown bulb doesn't affect the other bulbs.
ASAHOM RGB Bluetooth Lights
Need more color? These RGB Bluetooth outdoor lights are bright and colorful! With 8 different modes, this multi-colored light set is ever-changing. Outdoor RV use is no problem thanks to the shatterproof, waterproof design.
Possibly the coolest feature of these RV awning lights is the Bluetooth option. You can control the mode, dimness, and set timers – all with your phone! These lights can even be synced with the music on your phone for full party mode.
If you're looking for a solar option then check out the Lyhope Solar String Lights. These solar RV lights are great-looking lights for outdoor use and light up your night using the power of the sun.
The crystal ball design looks very modern and will change the feel of your outdoor space. With 8 modes, you can be sure to have the perfect feel at your campsite. Plus, the auto on/off function means these lights will come on at night and turn off during the day.
These solar RV awning lights are fully waterproof and come with everything you need. Small solar panels with ground stakes make setup quick and easy.
MPOWERED Luci String Lights
MPOWERED Luci String Lights are a super cool option for string lights along your RV awning. A built-in rechargeable lithium-ion battery provides 100 lumens across an 18 ft cord lasting up to 20 hours on a single charge.
Taking down and storing awning lights can be a pain but the Luci packs up in the storage unit which collapses down to 2 inches and weighs just over 11 ounces. The Luci string lights are rechargeable with solar or USB quick charge. Plus, the charger on these lights can also charge your small items!
Waybelive LED Strip Lights

The Waybelieve LED Strip Lights are the perfect upgrade or addition to your RV awning.
These LED RV awning lights are simple to install thanks to the adhesive backing and flexible light strip. The protective tubing makes the strip lights very durable and waterproof for years of safe use. Sold in 16-foot lengths they are perfect for RV awnings.
With 4 modes and 16 color variations, you can always find the perfect setting to suit your campsite's mood. Fully controlled by the supplied remote control so you can adjust the light, color, and mode all from the comfort of your camp chair.
Upgrade Your Outdoor Space With Camper Awning Lights
RV awning lights extend your evenings and light up your campsite with color and style. There are so many options available in both styles.
The mood of your campsite can be easily changed with awning lights. Can't decide on a soft clear light option or something more fun? Incorporate strip lighting along with a hanging option so you can choose based on your mode and the company you have.
Want to support your team? You can proudly display some hanging lights with your team's logo on them. Holidays can be celebrated with colored lights or lights shaped in holiday themes. The options are endless and will add to your camping experience.
Last update on 2023-09-13 / Affiliate links / Images from Amazon Product Advertising API