Hey there travelers!
Can you believe it's been over a year since we released the inaugural Begin RV Influencers List? 
The mission of the BeginRV RV Influencers List is to provide the RV community with a comprehensive resource of influential people and groups helping to grow and diversify the road travel space. Not all are familiar names with large followings, but all have something meaningful to add to the RV community.
The good news in 2022?
Despite strong macroeconomic headwinds that have slowed the RV industry to pre-COVID levels, our community continues its march towards diversification offering more opportunities for historically underrepresented groups to explore the great outdoors.
Building on the amazing reception of our 2021 RV Influencers List, the 2022 version offers our readership an even more comprehensive look at the names shaping the road travel industry today.
How the 2022 RV Influencer List Was Chosen
Although there are many names on this list that you will surely recognize, many will be new to you … and that is the whole point of this exercise.
An "influencer" is not a status symbol as used in our context.
As we define it, an influencer is any person or organization who adds something important and influential to the RV, campervan, and outdoor living communities. They contribute knowledge, know-how, and passion that engages, inspires, and opens doors for new communities to join the RV community.
One of the main focuses of this list is the DIVERSITY OF VOICES.  We believe the great diversity creates more exciting opportunities for the entire RV community.
As with any list, there is only room for so many entries. There are so many wonderful individuals and groups supporting and contributing to RVing and we simply can't include them all.
For those not included, we will do our best to give them a platform on our site in the future.
The RV Influencer Categories
The 2022 BeginRV Influencers List is broken down into separate categories representing different mediums, sectors, and types of media in the road travel world.
Those categories are:
New and Diverse Voices
RV Blogs
Campervan Blogs
Instagram Accounts
YouTube Channels
Special Interest Clubs
Discount RV Clubs
RV Rental Sites
Campground Booking Sites
RV Industry
So we don't have our inbox filled with hate mail, just a few quick notes before we get started:
This article contains NO affiliate links, paid advertisements, or biases based on personal relationships. The list was compiled by our editorial team based solely on personal knowledge and months of research. The integrity of the list was of the utmost importance to us;
We added influencers to the one category we believed they most belonged in. Many influencers have blogs, YouTube channels, Instagram accounts, etc. Each person/entity could only be chosen for one category
Traffic, "follows", "views" and other metrics were one factor in our consideration, but not the driving factor. We made choices based on the person/entity's perceived influence in the road travel space.
Without further ado … the 2nd Annual BeginRV RV Influencers list!
New and Diverse Voices
Actively working to increase access, resources, and good old outdoor fun to traditionally underrepresented groups, these people and groups represent the future of the RVing and the greater outdoor space.
With over 85% of current RV owners still identifying as White, outdoors and RV-oriented groups such as Latino Outdoors, Black Folks Camp Too, and Outdoor Asian offer important community-building and access to a new generation of RVers and outdoors people.
Here are BeginRV's picks for the most influential new and diverse voices in the road travel community:  
RV Blogs
Blogging continues to grow as quickly as the RV industry itself.  From answering basic RV questions to RV entrepreneurship, blogs are an incredible resource of both entertainment and information to both new and experienced RVers alike.
RV blogs are helping the growth of the RV industry and many are written by people just like you! Blogs can be reviews, how-to, and advice on everything from the latest tech to the best campgrounds.
Are you looking for an authentic real-world opinion of what full-time RVing with kids is like? Looking to fix your broken furnace? Regardless of the niche, there is a blog with all your answers.
Here are BeginRV's picks for the most influential RV Blogs of 2022:
| | | |
| --- | --- | --- |
| Name (16) | Website | About |
| Mortons On The Move | https://www.mortonsonthemove.com | Source for inspiration, travel destinations, RV knowledge, gear reviews, and more |
| Soulful RV Family | https://soulfulrvfamily.com/ | Ex-NFL player Keith Sims and his family travel around the States in their RV. |
| Enjoy The Journey | https://enjoythejourney.life | Tom and Cheri share their stories of living and working full-time in an RV |
| RV Blogger | https://rvblogger.com | Blog of Mike and Susan – the most knowledgeable RV content creators on the web |
| Technomadia | https://www.technomadia.com/blog | Exploration of how technology supports nomadic lifestyle |
| RV Travel | https://www.rvtravel.com | One of the longest-running RV news and information blogs on the web |
| GoRVing | https://www.gorving.com | Comprehensive and cutting-edge resources for the modern RVer |
| Camp Addict | https://campaddict.com | Information, how-to's, videos, and other resources for the avid RVer |
| We're The Russos | https://weretherussos.com | Nomadic RVers on the road since 2015 |
| Getaway Couple | https://www.getawaycouple.com | Young RV couple on the road since 2017 |
| Browns Dope Little Adventures | https://brownsdopelittleadventures.com | 30's aged  couple sharing adventures of RV life |
| Grateful Glamper | https://gratefulglamper.com | Full-time RVers and entrepreneurs reviewing products, RV reno, and other how-to topics |
| Heath and Alyssa | https://heathandalyssa.com/rving-blog | Posts on travel, how to build a mobile business, and what life is like on the road |
| RV Lifestyle | https://rvlifestyle.com | Bloggers, podcasters, and YouTubers with extensive content on RV lifestyle |
| The Wandering RV | https://www.thewanderingrv.com | Online RVing magazine with well-researched articles |
| RV Miles | https://rvmiles.com | YouTubers, podcasters, and bloggers sharing tips about the RV life |
Campervan Blogs
As more young people and singles are looking for a way to escape the ordinary, campervans have become the hottest way to travel. This new generation of travelers has given rise to the van life movement through #vanlife.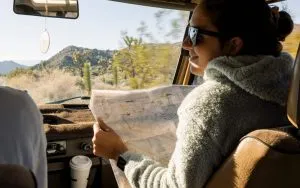 From retired couples with condos on wheels to 20-somethings with a converted delivery van, the van life demographic is large and growing. When it comes to RVs, campervans just might be the ultimate freedom ride.
Here are BeginRV's picks for the most influential Campervan Blogs of 2022:
| | | |
| --- | --- | --- |
| Name (15) | Website | About |
| Cheap RV Living | https://cheaprvliving.com | All the nomadic information you need to find your best life |
| Two Wandering Soles | https://www.twowanderingsoles.com/campervan-life | Adventurous couple offering tutorials, guides, and useful tips on van living |
| Van Clan | https://vanclan.co | Everything van life |
| The Indie Project | https://www.theindieprojects.com/blog | Nomadic travelers offering tips, tricks, and van life resources |
| Barefoot Theory | https://bearfoottheory.com/category/van-life-roadmap | Outdoors and van life blog with empowering and inspiring content |
| Gnomad Home | https://gnomadhome.com | Excellent how-to advice on the nomadic lifestyle |
| Kombi Life | https://kombilife.com | Nomadic travel vloggers documenting adventurous travels |
| Parked In Paradise | https://www.parkedinparadise.com/ | Van, RV, and camping blog filled with great resources |
| One Chick Travels | https://www.onechicktravels.com | Traveling writer, filmmaker, and photographer writing about van conversions |
| Van Cat Meow | https://www.vancatmeow.com | Whimsical account of a rescue cat traveling in a campervan |
| So We Bought a Van | https://soweboughtavan.com | Solo female traveler documenting her van travels |
| Van Life Builds | https://www.vanlifebuilds.com | Van build-out service with high-quality blog |
| Vanlife Diaries | www.vanlife.com.au | Compelling van life stories, news, and profiles with down-to-earth appeal |
| The Vanual | https://thevanual.com | The go-to site for campervan conversion |
| Divine on the Road | https://divineontheroad.com | Solo van traveler sharing advice on van conversions, van life logistics, and earning a remote income |
Instagram Accounts
Instagram's impact on the RV world cannot be overstated. Through slice-of-life style videos and stunning travel photography, IG has introduced a new generation to the possibilities of road travel.
The beautiful thing about Instagram is anyone with a phone can be an influencer. There are RV influencers with followings in the hundreds of thousands but some of the most influential are smaller accounts.
Every day ordinary people are sharing everyday stories of their RV travel. From traveling nurses to widowed seniors Instagram shows that the road offers possibilities to everyone.
Here are BeginRV's picks for the most influential Instagrammers of 2022:
| | | |
| --- | --- | --- |
| Name (16) | Instagram Page | About |
| @brownpeoplecamping | Click Here | An Indian Muslim American woman diversifying public lands & outdoors one story at a time |
| @waifsstraysandrunaways.co.uk | Click Here | UK couple with a handicapped converted campervan sharing their adventure |
| @no.e.t.a | Click Here | Truck camper couple Kelsey and Scott traveling and working with their two pooches |
| @the.travel.nurse.couple | Click Here | Young couple Kyle and Tess combining their love of healthcare and travel |
| @intentionaladventure | Click Here | RV family traveling full-time in a fifth wheel producing content for the RV space |
| @strayleif | Click Here | Following a young couple's new parenting journey while converting a skoolie |
| @the.wanderpreneurs | Click Here | Full-time RVers since 2018 offering tips for travel |
| @thislittleairstream | Click Here | Airstream renovations by talented female DIY'er |
| @rootlesslivingmag | Click Here | A magazine dedicated to the digital nomad lifestyle |
| @thehappyglamperco | Click Here | Kelsey applies her love for RV to renovating RVs and teaching you how to do it yourself |
| @thervatlas | Click Here | Popular hosts of the RV Atlas podcast |
| @doesthiscountasvanlife | Click Here | Funny and inspiring solo traveler living out of a van |
| @staplesintents | Click Here | Overlanders and bloggers from Atlanta |
| @rvstickerclub | Click Here | An international community of travelers that trade RV stickers |
| @emilyfeely | Click Here | Designer with RV renovation and small-living content |
| @tribeonaquest | Click Here | A beautiful account of parenting special needs children on the road. |
YouTube Channels
YouTube can make a star out of anyone and has produced some well-known names in the RV space such as Keep Your Daydream and the RV Geeks. Producing quality content for YouTube can become a full-time job with filming and editing.
For those who build up their subscribers, however, it can become a paid job.
As with Instagram, YouTube is full of influencers with huge reach as well as small channels with a very specific audience. The DIY channels are great for new RVers giving them the confidence to solve problems on the road, discover new gadgets, and learn about RV entrepreneurship.
Here are BeginRV's picks for the most influential RV YouTubers of 2022:
Special Interest Clubs
As the RV industry and community grow, so does the demographic of people involved in RVing. This growth exposes the need for special interest groups within the RV world.
From vintage camper groups to RVing with kids or as a single woman, special interest groups are popping up everywhere. Some of these groups are small but mighty while others have grown to cover multiple states and countries.
Here are BeginRV's picks for the most influential Speciality RV Clubs of 2022:
Discount RV Clubs
Who doesn't love a good discount? These discount RV clubs offer RVers discounts at campgrounds, roadside assistance, mail forwarding, and other essential services while out on the road.
If you are an avid RVer these clubs can save you lots of money every season.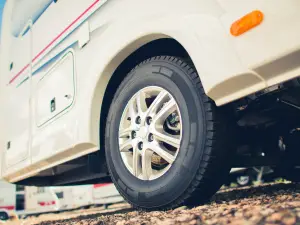 Here are BeginRV's picks for the most influential Discount RV Clubs of 2022: 
RV Rental Sites
RV rental sites are largely responsible for the growth of the RV community. RV rentals allow those not sure about buying an RV or financially unable to buy an RV, a chance to experience the RV life.
If you will only spend a week a year RVing why not just rent? These peer-to-peer platforms are also great for RV owners to make some money while not using their RV. Whether it's a peer-to-peer platform such as RVezy or a nationwide rental company like Cruise America, RV rental is a hot space in the RV world.
Here are BeginRV's picks for the most influential RV Rental Websites of 2022:
Campground Booking Sites
Gone are the days of waiting for campgrounds to return phone calls or emails to find out there is no availability. Campground booking sites are an easy way to reserve your sites without hours of searching campground websites.
Pick your dates and location and you're presented with available options instantly. Pre-planning your trip months ahead or looking for a last-minute spot while on the road, campground booking sites do the work for you.
Here are BeginRV's picks for the most influential Campground Booking Sites of 2022:
| | | |
| --- | --- | --- |
| Name (8) | Website | About |
| RVSpotDrop | https://rvspotdrop.com | Sends you canceled and unsold RV sites for short and long-term stays that match your specific criteria |
| Rover Pass | https://www.roverpass.com | Bookings at over 6,000 RV parks and campgrounds across the US |
| Recreation.gov | http://www.recreation.gov | Go-to booking site for Federal and State lands |
| Campground Booking | https://campgroundbooking.com | Campground booking site and backend software for campsite owners |
| The Dyrt | https://thedyrt.com | More than 1 million listings, reviews, and tips for campsites across the U.S. |
| Hip Camp | https://www.hipcamp.com | Comprehensive resource for discovering and booking outdoor stays including tent camping, RV parks, cabins, treehouses, and glamping |
| Reserve America | https://www.reserveamerica.com | Over 17.5 million users visit ReserveAmerica.com each year to research and book camping trips |
| Pitch Up | https://www.pitchup.com | Over 2,700 campsites to book in the US, UK, and Europe |
Industry Sites
Industry sites are the news sites of the RV world. Providing up-to-date information on the industry to promote, advocate and inform the public about RVing. Without the flash and sometimes biased opinions of social media, these sites are the trusted voice of the RV industry.
Here are BeginRV's picks for the most influential Industry Sites of 2022:
What To Do With These Lists
Don't take our word for it check out these voices for yourself! We encourage you to go beyond the most searched and highest subscribed sources. Reading one blog post or watching one YouTube video from a new contributor can lead you to an entirely different group of people and a new found appreciation for RVing and the outdoors.
Thank you so much for checking out our second annual RV influencer list. It has been an exciting experience digger deeper into the RV world and watching it evolve and grow.
Easy Travels,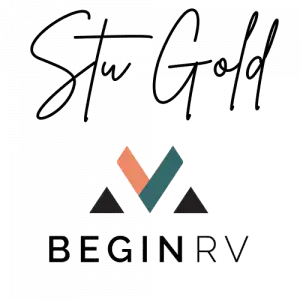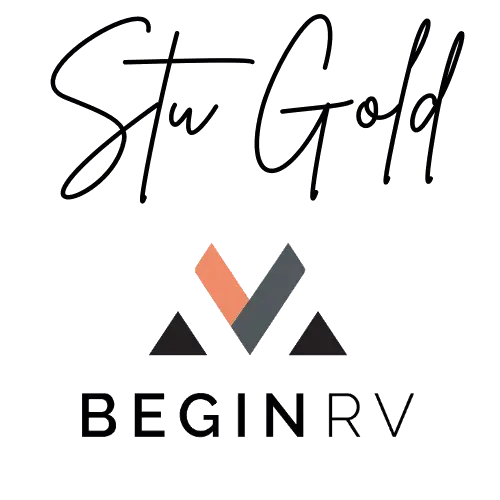 ---
Interested in growing your RV and outdoor brand? Check out our talk given to over 100 leading RV brands at the RV Industry Association (RVIA) Aftermarket Committee meeting.