All is going to plan on your latest RV trip. Traffic is light. Sky is blue. Birds are singing. You're enjoying long hikes during the day and cold beers by the campfire at night.
As the great Lizzo would put it … you're feelin' good as hell.
Just for a few days (or weeks) you put all your worries aside and just relax … that is until an unexpected mechanical issue threatens to ruin your vibe.
Your problem could be any numbers of headaches. Maybe it's a:
Tire blowout;
Battery failure;
Roof leak;
Engine issue, or
Any one of a host of terrible, awful, no-good issues that plague RV owners (and renters)
You can drive or tow your RV or camper to a local repair shop (if there is one local). This will certainly lead to (a) huge out-of-pocket costs; and (b) losing valuable days on your trip.
Or … you can call a mobile RV repair service to come to Y-O-U!
RV Repair Shops vs Mobile RV Repair
Not all RV repair services are created equally. On the one hand you have brick-and-mortar RV repair shops. On the other, you have RV mobile repair services.
It's like comparing apples and oranges. Xbox vs. Playstation. South Park vs. Family Guy … you get the picture. Let's quickly look at each one and discover the pros and cons of each.
RV Repair Shops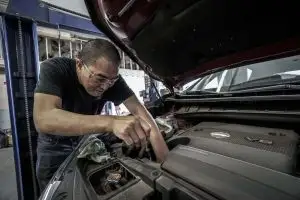 Dealerships and specialized RV repair shops are brick-and-mortar businesses that offer RV repair services. Sometimes the physical repair shop will be your only option for RV repair if you have a serious issue like transmission failure or engine problems.
If you are out on the road and close to an RV repair shop, this may not be such a big problem. However, if you break down on the highway or find yourself in a remote location when you need help, expect to pay through the nose for towing services to a repair shop.
Some RV repair shops will offer limited RV mobile repair services in the case of emergency, but most will end up towing your RV to the shop (and hit you with the double-whammy for tow charges and repair charges).
Here are the pros and cons of physical RV repair shops as we see it:
Pros
Team of certified technicians with in-depth knowledge of a variety of RV models;
Can fix major mechanical issues such as engine and transmission;
Most will help process RV warranty claims;
May do house calls for inspections or mobile services in case of emergency.
Cons
High cost even for small issues;
Slow turnaround times;
Can't help you on the road;
RV Mobile Repair Specialists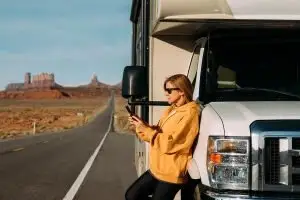 Mobile RV repair specialists are experts in specific niche RV repair jobs. Working directly out of their own vehicles, these  "jack-of-all-trades" are experienced in fixing just about everything and anything that can go wrong with your RV or camper.
Because they usually do not work out of a shop, mobile RV specialists may not have all the parts on hand for your repair. However, many have great relationships with dealers or parts suppliers and may be able to offer a discount if you order parts through them.
Specialists list their services on their websites, but some common RV mobile repair services you can expect to find are:
Tire blowouts;
Battery issues/replacement;
Plumbing issues;
RV A/C unit maintenance and installation/removal;
Water heater issues;
Roof leaks;
Electrical issues
Mobile RV repair specialists will charge a combination of separate fees for their services.
Per Mile Fee: Typically this is the charge per mile that the mobile RV repair service will take to get to you. For instance, if a company charges 50 cents per mile and they have to travel 100 miles to get to you, the per mile fee would be $50.
Call Out Fee: Most RV mobile repair services will charge a flat call out fee to respond to your call. This could be anywhere from $75 to $150 depending on the service. The flat fee will be charged whether they work on your unit for 5 minutes or 5 hours.
Hourly Rate: This is the per hour rate that the mobile RV service provider will charge for their services. You can expect to pay somewhere between $100-$200 per hour – with many falling between the $125-$150 price range.
Parts Fee: If your unit requires a new part (say a new tire, battery, etc.) you will need to pay for the part.
So, for example, say you are 100 miles away with two flat tires. Your mobile service provider charges 50 cents per mile, a call out fee of $125 and a per hour fee of $150.  The job takes 2 hours and the tires are $200 each. 
Your charge for the job would be: $50 (mileage) + $125 (call out) + $300 (hourly) + $400 (tires). The total charge for this particular job would be $875.
Yes, it's a lot to change two flat tires, but imagine if you had to take it to a shop 50 miles out of the day and you couldn't get your RV back for 2 days. You would be losing out on a huge part of your trip and any costs for lodging and food you'd need to spend while your vehicle was in the shop.
Here are the pros/cons of mobile RV repair specialists:
Pros
Convenience! Come directly to where you are;
Can get you back on road quickly;
Saves you valuable days on your trip;
Expert in RV repair;
Certified technicians;
Cons
Won't be able to do more serious repairs on engine/transmission;
May not have all the parts needed for repair;
More variability in skill and quality of service;
Fees can add up quickly;
Five Ways to Find the Right Mobile RV Repair
The best part about mobile repair technicians is that they come to you. This prevents you from paying insane towing fees or risking damage to your RV attempting to limp it into a shop.
To help you find the help you need as fast as possible, take a look at our FREE mobile RV repair service directory. It's fast, easy, and contains a list of RV mobile repair providers from all 48 continental US States (plus Alaska).  
If you prefer not to use our free directory (there will always be some) there are a number of other ways to find a good mobile RV repair service near you. You can:
Search the internet
Ask a fellow RVer
Ask the campground manager
Call a dealership or parts supplier
Check out local classified ads
Let's take a look at five ways to search for a mobile RV service that's fair and reliable.
#1: Internet search.  A simple search for phrases like, "mobile RV repair near me," "on-site RV repair near me," "mobile RV repairman," or "mobile RV technician in (city or town)" will generate what you're looking for.
However, you need to be careful that this is not the only tool you are relying on. Just because a provider ranks high in Google doesn't mean they are the best provider.
To find the best and most reliable mobile repair service online, look at reviews and customer ratings for the business. An informative mobile repair business website will list their services, include their contact information and state their fees listed right up front.
Typically, the more information about the service, the better. Transparency is key.
#2. Ask a campground manager: The campground manager can be a wealth of knowledge on local sights, things to do, places to eat … and RV repair. Even if the campground you're staying at doesn't permit on-site repairs, they can usually refer you to a good technician. Some have a favorite they rely on to take care of their patrons on a regular basis.
The good news is more campgrounds are adopting their own on-site service technicians. It's always a great idea to research the campground you plan to stay at, or give them a call and ask them if this is a service they offer.
#3. Ask a Fellow RVer:  Word of mouth is still one of the best ways to find outstanding people in the service industry. RVers are known to be especially generous and forthcoming with their fellow RVers in offering advice.
Chances are your road traveling brethren have had to deal with RV issues at some point. These folks will gladly point you in the direction of a dependable and trustworthy mobile repairman – or steer you clear of one who isn't. It's really one of the only sure-fire ways to assure amazing service.
#4. Ask a local dealership or parts supplier: In the unlikely event an internet search fails to turn up a mobile RV repair option, it doesn't mean that you are out of luck.
Mobile RV repair services are notoriously poor at advertising their services. If this is the case in your area, you can reach out to local RV dealerships or parts supplies and ask them for a recommendation.  A quick call to one of these places can put you in touch with a trusted mobile technician in next to no time.
#5. Look at classified ads in a local paper:  While most of North America has gone digital, there are still locations that receive little to no internet reception. It seems crazy, but in some more rural areas in the South and Midwest you can be 50 miles or more from a a repair shop or business that can help you if you RV has issues.
If you wind up in one of these "dead-zones," you can still pick up a local classified ads paper at a nearby gas station or convenience store. Most of the time these papers are free.
A quick thumb through the business classifieds will usually yield something; If not an actual mobile RV repair service, then at the least a local RV dealership and you can go from there.
Conclusion
To be blunt, sh*t happens. It's not really if, but when you will run into an issue with your RV or camper. The key is to be ready with a solution when things go unexpectedly wrong.
Mobile RV repair is a great option to know about if something does go wrong on your trip. It may cost a little more up front to get service that comes to you, but the tradeoff is that you won't miss valuable days of your trip.
The convenience, responsiveness and stress reduction from having a RV mobile repair service come to you should more than easily make up for the trade-off in cost.
Questions? Comments? Just want to sound off on your mother-in-law? Feel free to leave us a comment below or reach out to us on our contact form. We love our readers, and since you are a reader – we love you. ; )
Easy Travels,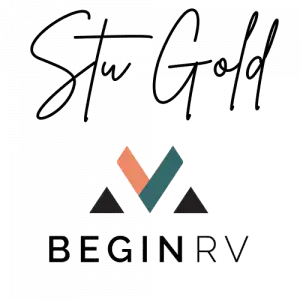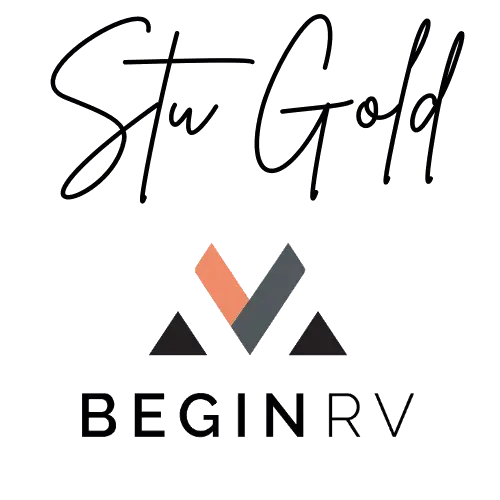 As a big THANK YOU to our readers, BeginRV is offering a stylish 36-page digital travel journal ABSOLUTELY FREE to all our email subscribers.  The printable digital travel journal includes cleverly-designed useable space and features, such as:
12-month 2021 calendar with space for your notes;
Dedicated page to write down your travel essentials;
Fun design to record your travel itinerary;
Lined-pages for writing down your thoughts and notes.
Get your FREE digital travel journal today!