In a hurry to find the best Nashville RV Rental? We recommend CAMP SOUTH RV or OUTDOORSY. To jump right to the reviews, click HERE:
Winner Best RV Rental Nashville (Tie) – Outdoorsy
Live Music, Cold Beer and Hot Chicken: Nashville Has It All
Killer food scene. Award-winning craft breweries. Trendy hotels. Rockin' live music. If Nashville isn't the hottest city in the South … we're not sure what is. For the modern RVer looking for hands-on experiences, you can find it all in Nashville: 
√  Live music capital of the world   
√  Nashville famous "Hot Chicken" (try Prince's Hot Chicken Shack!)
√  Country Music Hall of Fame, Grand Ole Opry and Johnny Cash Museum 
√  National Museum of African American Music (opening 2021)
√  Most popular bachelorette party destination in America!
If you are looking for an RV rental Nashville, we're here to help you discover the best rental agencies in the Music City. From peer-to-peer renters like Outdoorsy to local outfits like Camp South RV, read on for our in-depth comparison so you can make the most out of your next RV road trip. 
Why Rent Your RV In Nashville?
Nashville is America's "It" city.  Just last year 16.1 million visitors came to Nashville, an unbelievable increase of over 5 million visitors since 2012. Only a 3.5 hour drive from Atlanta and 2.5 hour drive from Knoxville, Nashville is a great Southern hub to begin (or end) your RV adventure. 
You can easily spend a month and not get around to experiencing all Nashville has to offer.  Here are just a few of the  activities we recommend – some well known and others a bit off the beaten path: 
Whether you love or hate country music, one of your first stops in Nashville has to be the Country Music Hall of Fame – one of the world's largest museums. With over 200,000 sound recordings, 500,000 photographs and thousands of pieces of iconic country music history – there is nothing comparable anywhere else in the world. Adult tickets are $25.95 and children tickets (ages 6-12) are $15.95. For $2 off a ticket, use the coupon code NVMUSIC at Trusted Tours. 
One of the coolest parts about renting an RV in Nashville is the opportunity to discover new talent before they go big. The Listening Room Cafe is where you go to find up-and-coming singer-songwriters belt out acoustic versions of their songs to intimate crowds. 
Believe it or not, Nashville boasts a full-scale replica of the Parthenon in the middle of beautiful Centennial Park. Originally built for Tennessee's 1897 Centennial Exposition, this replica of the Parthenon in Athens, Greece serves as a monument to what is considered the pinnacle of classical architecture. There's even a 42-foot tall statue of Athena for you to marvel at. Admission is $10 for adults and $8 for children (4-17) and Seniors (62+)
Ranked the #1 music museum in the world by Forbes, Conde' Naste, and National Geographic Traveler –  the The Johnny Cash Museum is a must-stop for any music lover. Tickets to learn about the life of  the "Man In Black"  cost $20.95 + tax for adults and $16.95 for children (6-15).  $1 off for AAA, Military, Seniors and Students. 
If you're into craft brews, we recommend checking out the best breweries in Nashville: Bearded Irish Brewing and New Heights Brewing. Bearded Irish is definitely the cool kid on the block – you can often find a DJ spinning tunes as you sip from their amazing selection of IPAs. New Heights is a sweet spot with great bartenders and a sultry Coffee and Cream Ale that combines our two favorite passions: coffee and beer. 
A honky-tonk institution, Legends Corner Country Music Bar is the quintessential Nashville night-out for live music, cold beer and an all-around fun night. The stage has been graced by such country music legends as Toby Keith, Luke Bryan and Darius Rucker.  
If you want just a fun day out in Nashville, head over to ClassAxe for an awesome time drinking beers and axe throwing (an amazing combination!) If you've never thrown an axe before … no problem. You'll be assigned an axe throwing coach who will give you a quick 15-minute tutorial on how to throw like a real bad-a**.  Right now Groupon is running a discount code for a 60-minute Session for 4 people for $80 (a good deal at $20pp). 
After the opening was delayed due to COVID-19, the National Museum of African American Music is scheduled to open in December 2020. The museum will integrate history and interactive technology to bring the African American musical heroes of the past into the present. Adult tickets $24.95, Kids (7-17) $13.50, Senior Citizens (65+) $18.75. 
If you are willing to take a little day trip, take the 90 minute drive over to Lynchberg to check out the Jack Daniels Distillery. For just $30, you can take an hour and a half tour including a stop at the Barrelhouse where you'll get to sip a flight of 5 Jack Daniels products. Giddy up!
RV Rental Nashville: A Deep Dive Into Your Rental Options
Now that we've explored all the great experiences the Music City has to offer, it's time to discuss Nashville RV Rentals. There are two types of RV Rental companies that you need to know about: 
Peer-to-Peer RV Rental Nashville 
Just like everything else in the world, the RV rental world is going online. Peer-to-Peer RV rental is where RV owners rent out their personal RVs to other individuals through a website. Peer-to-peer rental websites like Outdoorsy and RVShare provide easy-to-use platforms to rent from hundreds of different makes and models of motorhomes, trailers, campers, toy haulers, sprinter vans, and vintage vans. 
The incredible part of the Nashville Peer-to-Peer RV rental market is that you can search on the websites for exactly the make and model of motorhome you are looking for. From standard class C RVs to 40-foot luxury trailers, you're almost guaranteed to find something that will suit your needs. 
Peer-To-Peer RV Rental Nashville: The Good And Bad
| | |
| --- | --- |
| PROS | CONS |
| Vehicles accessible in nearly all cities | Vehicles can be less desirable than advertised online |
| Variety of price points from economy ($50/night) to luxury ($500/night) | Restrictions (age, driving history) on who can rent |
| Incredible variety of vehicles and trailers | Initial contact and communication with owner can be cumbersome |
| Insurance and 24/7 Roadside Assistance typically included (or at reasonable price) | Provided insurance can be frustrating and unreliable to work with |
| Large selection of luxury motorhomes and trailers |   |
Nashville RV Rental Company (Brick-And-Mortar)
Nashville has brick-and-mortar RV rental locations where you physically go to rent and pick up your RV. Many RV rental companies like Music City RV have easy-to-use websites that will allow you to choose from a wide selection of RVs.
The great part about the brick-and-mortar RV rental companies is that you are dealing with knowledgeable staff and a standard quality of vehicle. Renting from a Nashville RV rental company you can typically expect to have less last minute "surprises" when picking up your vehicle.
A drawback to of traditional brick-and-mortar RV Rental companies is that inventory can be scarce during the high summer seasons. You may have to reserve your RV months in advance if you are looking to travel between the months of May and September.
Brick-And-Mortar RV Rental Nashville: The Good And Bad
| | |
| --- | --- |
| PROS | CONS |
| Large selection of Class C motorhomes | Less variety of vehicles |
| Team of knowledgeable RV experts to help with rental | Rigid cancellation policies |
| More personalized customer service | Scarce inventory during high seasons |
| Less last minute surprises when renting | Can be expensive to rent – particularly during high season |
| Can often do 1-way trips | Large upfront deposits |
Choosing Your Vehicle Type
Nashville, the biggest city in Tennessee, offers a huge variety of RV rental options. Let's take a quick look at the different types of RV you can choose from:
Class C Motorhome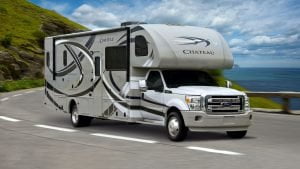 The Class C motorhome is your "classic" RV that most beginners think about when looking to rent an RV. Driving similar to a large SUV or pickup truck, the Class C is a popular choice among first-time RVers for it's ample sleeping capacity and easy navigation.
Benefits of renting a Nashville Class C Motorhome:
Easier navigation than larger Class A's or towing a trailer
Simpler to drive in bad weather
Safer to drive due to cockpit design
Lower to ground for easier entrance and exit from the vehicle
Accessible living area while the vehicle is moving
If you are a beginner looking to rent an RV in Nashville, we strongly recommend that you look into renting a Class C motorhome before moving on to something bigger.
Class A Motorhome
Class A motorhomes are the largest and most luxurious of the RV Rentals in Nashville. With plenty of storage space and high-end luxury features, Class A's are good to consider for couples or small families who don't want to leave the comforts of home behind.
On the negative side, Class A's get terrible fuel mileage – you can expect only 8-10 miles per gallon meaning that you will spend a small fortune on fuel. Due to the size, length and build of Class A's, navigation and parking can be quite difficult for the beginner.
Benefits of renting a Nashville Class A Motorhome:
Impressive look and design
Luxurious Amenities that will remind you of home
Ample Storage Space
Smooth ride quality
Class B Motorhomes (Camper Vans)
Nimble and more fuel efficient than Class A or C motorhomes, Campervans are a compact and affordable option for couples or close friends who don't mind sharing tight quarters. Self-contained with a kitchen, toilet and shower, the easy-driving Campervan delivers all your road trip needs in a pleasantly small package.
Benefits of renting a Nashville Campervan are:
Small, but efficient space for small groups
Easy to drive and maneuver – particularly in bad weather
Easy to park in parking lot or garage
Ideal for narrow streets and in congested traffic
Typically more affordable than Class A or Class C motorhomes
Travel Trailers
Due to their affordable price and lower maintenance, travel trailers are the most popular type of RV. The most important thing to know about a travel trailer is that it is towed behind your vehicle.
Travel trailers don't have a motor, but are towed by a "hitch" secured to the frame of the towing vehicle. Think of a travel trailer as a portable home you can tow across the country.
Nashville Travel Trailers come in all different shapes and sizes ranging from the garage-like toy hauler to the spacious and luxurious 5th wheel. While travel trailers make great long-term investments, in our opinion they are not the best choice for beginners or those looking for a short-term rental.
RV Rental Nashville: Our Top Choices In the Music City
Best RV Rental Nashville – Outdoorsy Nashville (Tie)
Summary
With close to 300 RVs available in Nashville, Outdoorsy's attractive combination of selection, price and customer service make it our top choice in Nashville. The easy-to-navigate website and straightforward booking process make the rental process seamless from start to finish. In addition to a wide selection of RVs, many Outdoorsy owners offer convenient straight-to-your-door delivery for a small fee. Renters are provided $1 million liability insurance protection program embedded in the cost of the rental (~$40-$50 per day) as well as optional 24/7 Roadside Assistance for a fee. Cancellation is broken into three tiers (Flexible, Moderate and Strict) depending on the amount of notice provided. For Flexible and Moderate cancellation, notice less than 14 days of trip will result in forfeit of 25% of your total trip fee (ie for a $400 total trip, you'd lose $100 for cancelling with less than 14 days notice).

Best RV Rental Nashville (Tie) – Camp South RV
Summary
If you are searching for a high-end RV rental in Nashville, Camp South is your place. There are only 4 Class C options available on their site, ranging in size from 23 to 32 feet, but each is fully-stocked with a wide rang of luxury amenities. Camp South RVs start at about $200 a day, with slight increases for the larger RVs. The rate is inclusive of insurance coverage and a hospitality package (i.e. bed, bath, kitchen & outdoor items). RV renters can save 10% on the price when booking for 7 days or longer, but the minimum rental set is for 3 days. 

Pickup and drop-offs are done on an appointment basis. A small deposit is required, but it's applied towards the total rental fee. However, all motorhomes do require a $1,500 refundable damage deposit. Cancellations are refunded in full if it's 30 days before departure. If it's within 30 days, you'll lose the deposit. If cancelled within 7 days, you'll lose half the trip cost.

Camp South is praised for it's incredible customer service and has a pristine 5-star rating on Google with customers praising their reliability, responsiveness and the cleanliness of the vehicles. Camp South offers 3D videos of each RV available, which is a great resource to help you decide what RV will work best for you.

RV Share Nashville
Summary
Offering 500+ drivable and towable RVs to choose from, RVShare is home to some of the largest selection of peer-to-peer rental inventory in Nashville. RV rentals come with great add on offerings including comprehensive insurance, 24/7 roadside assistance and emergency supply delivery that come in the form of standard fees.

Customer service is improving, but not always consistent. RVShare offers three tiers of cancellation (Flexible, Standard and Strict) with a full refund for any cancellations given 30 days prior notice – not including a one-time $99 cancellation processing fee.

Nashville RV
Summary
Offering great customer service and a wide-selection of Class A, B and C's along with travel trailers, there's an option for every budget type and travel style at Nashville RV. Each RV comes equipped with standard manufacturer specs along with a coffee pot, microwave, stove, refrigerator and freezer. Nashville RV takes a 50% prepayment when making a booking and a security deposit on the day of the rental pickup. Security deposits can range between $500 and $3,000 depending on vehicle.

Nashville RV offers a moderate cancellation policy. If canceled 14 days before departure, you'll receive RV rental credit for a year for your 50% prepayment. If cancelled 0-13 days prior, your prepayment payment is forfeited. Nashville RV offers collision damage, which can range from $29-$75 per day. If you do not carry insurance, you will be required to purchase $1,000,000 supplemental liability coverage from MBASLI.com at $19.95/day.

For late returns, a $50 per hour late fee applies if not returned within 2 hours of the scheduled time – so return your RV on time!

Music City RV
Cancellation Policy (Not Provided)
Summary
While Music City RV does not have the selection of RVs as their competitors (only 5 RVs currently listed on their site) what they lack in selection they've made up for in value-add services. All rentals come fully serviced, including full kitchen kits, dishes, silverware, cleaning supplies, clean linens and fresh towels. They've also include thoughtful touches like leveling wedges for RVs and water, sewer and electric supplies. 

Music City RV is a family-run business and they treat customers like family too. Customer reviews are glowing, especially from beginner RVers who may not know quite what they're looking for. There's a one-time setup fee to cover amenities but otherwise, the price is all-inclusive. Music City RV also offers discounts for weekly and monthly rentals. Extras such as generators incur an extra fee.


Nashville RV Rentals: The Final Word
Nashville is a trending city that has to be on your must-see list for 2021. Whether you are after a crazy honky-tonk RV weekend with friends or just really have a craving for that delicious Nashville Hot Chicken (it's really that good!) the Music City has something for everyone. 
There are many great Nashville RV rental options, but to sum up we think Outdoorsy is the best option for those looking for affordability and selection. Camp South RV is our top rental agency for those who value quality and exceptional customer service. 
Thanks for joining! We encourage you to share your personal experiences with us. We love to hear from our readers. 
     Easy Travels,