Have you ever got that sinking feeling in the pit of your stomach? The big camping trip is just a few days away … and you still haven't gone food shopping. 
So, what do you do camper? 
A camping food list is a handy tool to help you stay organized and avoid the last minute scaries before you take off on your trip. What are the benefits of the camping grocery list?
Organizes your food needs prior to your trip; 
Helps you set a food budget;
Ensures you won't miss important food staples or ingredients; 
Prevents "panic" buying; and
Saves you time and money while in the grocery store. 
Let's take a look at the camping food list we carefully developed from our years of RV and camping experience. Feel free to print it out and share it with family and friends! 
The Printable Camping Food List
Click HERE to access the easy 1-page printable camping food checklist.  You'll find the list is thoughtfully broken down into sixteen categorized sections: 
| | | | |
| --- | --- | --- | --- |
| Dairy & Eggs | Fruits | Vegetables | Canned Goods |
| Powdered Foods | Deli | Condiments | Sauces |
| Snacks | Grilling Meats | Beverages | Baked Goods |
| Pasta & Grains | Breakfast | Frozen Foods | Treats |
Please note, this is not an exhaustive list of every food item you can bring on your camping trip (please forgive me if I've left U-36 shrimp off the list). Use this camping food list as guidance and fill in additional needs under the "other" section.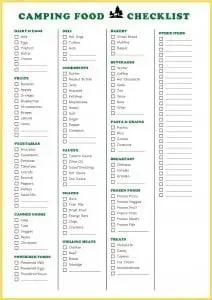 Now that you have your printable camping food list, let's take a look at how to use this list effectively. 
The Best Way to Use Your Camping Grocery List
Rather than rushing to the grocery store, it's important to take time to carefully plan out your food needs. Take into consideration: 
Need for simplicity; 

Refrigeration capabilities; 

Nutritious and filling ingredients;
Pre-trip preparation;
Snacks On Snacks On Snacks; and
Water needs.  
Let's take a closer look at each one of these topics below: 
Key 1: Keep Your Camping Food Simple 
There are plenty of websites that include a list of "simple" camping breakfast ideas that include Lobster Benedict or a 12-veggie egg frittata. My guess is these people have never been camping a day in their lives. 
Your camping trip is not the time to try out your great-grandmother's soufflé recipe. Choose camping foods that do not require mixing, mashing, basting or other advanced cooking techniques that are better left for a Food Network competition. 
When it comes to camping foods think Chef Boyardee … not Bobby Flay!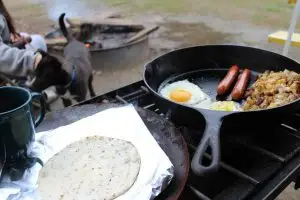 You have 50 other weeks of the year to pretend like you are an Iron Chef. On your camping trip you want to focus on food that is (1) tasty and healthy, and (2) quick to prepare. 
Focus on foods that are healthy, but can be prepared in less than 15-20 minutes. For example: 
| | | |
| --- | --- | --- |
| Hot Dogs | Cold Cut Sandwiches | Canned Soups |
| Hamburgers | PB & J Sandwiches | Yogurt and Granola |
| Sausages | Salads Using Canned Veggies | Eggs (regular or powdered) |
Chances are you are not going to get a superfood salad or kale smoothie while out in the wilderness, but you can still make nutritious and enjoyable meals that will keep you feeling energized. 
Depending on your refrigeration situation, you can expand your options to include fresh fruits, veggies and cheeses. Speaking of refrigeration … 
Key 2:  Know Your Refrigeration Situation
One of the most important considerations when purchasing food for your trip is to determine if you will have refrigeration. Camping refrigeration can mean two things: (1) an electric refrigerator hooked up in your RV, trailer or camper, or (2) coolers. 
Refrigeration will allow you to pack fresh meats, veggies and dairy products that will be more nutritious and satisfying than only canned or dry foods. While most campers won't have residential refrigeration, modern coolers have incredible technology that can keep food fresh for days at a time. 
If you will have access to refrigeration, your camping food list should include that products that are:
Flat and take up minimal space;

Resealable;

More than a few days out from the expiration date

Will not squish or leak
The most important thing is to plan appropriately. You don't want to feel compelled to eat a package of 32 yogurts in a night because they will spoil by the next morning. 
Key 3: Health Is Wealth
Don't confuse "simple" with unhealthy. On camping trips you'll be partaking in calorie-burning activities like hiking, biking and swimming that require high-quality fuel for your body. While a little junk food won't kill you – proteins, healthy fats and good carbs are the fuel you need for optimal outdoor performance. 
You can also try supplements like probiotics that can keep your gut and brain healthy while you are on a camping trip.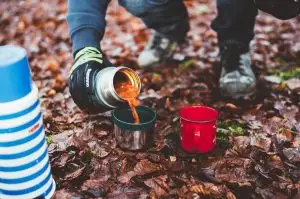 There are plenty of camping foods that are both nutritious and easy to make. Some of our favorite healthy camping foods are:
Tuna
Jerky
Almond Butter
Avocados
Apples
Canned Veggies (corn, asparagus, tomatoes)
Granola
Cereal
Canned Soups
Yogurt
 If you want to get the most out of your trip, it's worth the extra hour or two of planning to create a healthy camping grocery list. The last thing you want is to feel slow, uncomfortable and lethargic because you didn't pack the right foods. 
Key 4:  Pre-Trip Prep Is Key
After you've purchased items from your camping food list, carve out some time the day before the trip to prep.  Smart campers know to chop, pre-cook and sort their camping meals before leaving for the trip. 
It's never fun to return back to camp exhausted from a long day of hiking and have to wonder, what's for dinner?  This is where food prep comes in. Why is food prep so important? 
Will save you valuable time on your camping trip; 
Make larger foods (such as meats) easier to pack;
Allows you to control portion sizes; and
Keeps you eating healthy.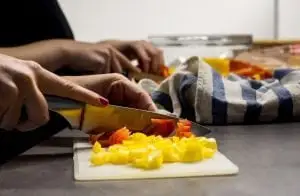 The name of the game is to maximize your time relaxin'  and minimize your worries when out in the wilderness. If you want some great ideas on how to cook up some great pre-made camping meals, our friends at The Dyrt twelve great ideas including: 
Breakfast Burritos 
Overnight Oats
Chili
Pasta Salad
Mac N Cheese
Banana Bread;
Blueberry Muffins and others
Remember: preparation time is never wasted! Whether you are camping alone or with a group of rambunctious kids, the last thing anyone wants is to be waiting around for an hour after a long day on the trail or in the water. 
Trust me: meal prep is for your own sanity! 
Key 5: Camping Snacks That Give You Energy
Whether you are just going overnight or taking a two-week wilderness adventure, don't underestimate the importance  of healthy camping snacks. An interesting variety of camping snacks can keep you full and energized throughout the day – without leaving you sluggish. 
Let's make something clear: by "camping snacks" we don't mean sugar-filled unhealthy foods such as candy bars, energy drinks or potato chips. Sure, a little treat is fine, but you don't want to rely on junk to fuel your body.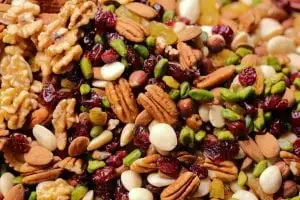 Some good examples of healthy and energy-filled camping snacks are: 
Trail Mix; 
Jerky; 
Granola; 
Homemade Energy Balls; 
Energy Bars; 
Tuna Packets; and
Ants on a log. 
One of my personal favorite camping snacks to have with me is a well-balanced, homemade trail mix.  If you are looking for a great trail mix recipe, here is one that I like to use. 
Trail Mix Recipe (use any proportion to your taste!) 
Almond Slices
Pistachio Nuts
Yellow Raisins 
White Chocolate Chips
Pretzel Bits 
Your body (and your budget!) will thank you for a good selection of well-balanced camping snacks. 
Key 6: Say No To Sugary Drinks!
Don't overcomplicate things in the beverage department. Just stick with water! We know it will be tempting to bring sodas and juices and other sugary comfort drinks … but resist the urge. 
One of your top goals will be to stay hydrated. On hot days, dehydration can sneak up with you not even noticing and can be dangerous – and even deadly.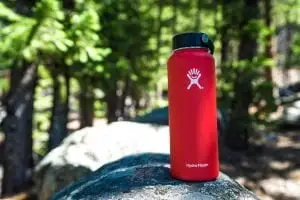 Research from the World Health Organization has shown that some diet sodas and beverages can actually draw water from your tissues and depletes your body of fluids. Additionally, some sodas and juices can act as a mild diuretic – causing you to go to the bathroom more frequently. 
Your next next camping vacation might be the only time you have all year to let go of all the anxieties and stresses of the real world.  Use this time to clear both your mind and body of stress, anxieties and pollutants – both mental and physical. 
Good campers know that to save both space and the planet, don't use individual plastic water bottles.  Purchase gallon water jugs and use those to fill a reusable water bottle as you head out each day. 
The Final Word on Your Camping Food List
Thinking about heading into the great outdoors? A printable camping food list can be an absolute life-saver for both the beginner and experienced camper.
My advice: print out our camping food list. Study it. Know it. Love it!  Not since the Declaration of Independence has a document harnessed such mystery and power. 
As with all things in life: preparation is key.  Just a few hours thinking about and preparing your camping food needs will go a long way to ensure a stress-free and healthy camping trip.  
That's all for today folks. Leave any thoughts, questions or comments in the comments section below. We love to hear from our readers! 
     Easy Travels,