Composting toilets are an excellent option regardless of your living space – RV, boat, camper van – even a house! Check out this RV composting toilet review as we look at the OGO Composting Toilet.
As a composting toilet skeptic, I was nervous to try out the composting toilet from OGO. Like many people, I figured that a composting toilet would be messy, smelly, and uncomfortable. To my surprise, this wasn't the case!
Read on for my detailed review of the OGO Composting Toilet and decide for yourself if you might be ready to embrace the waterless toilet world.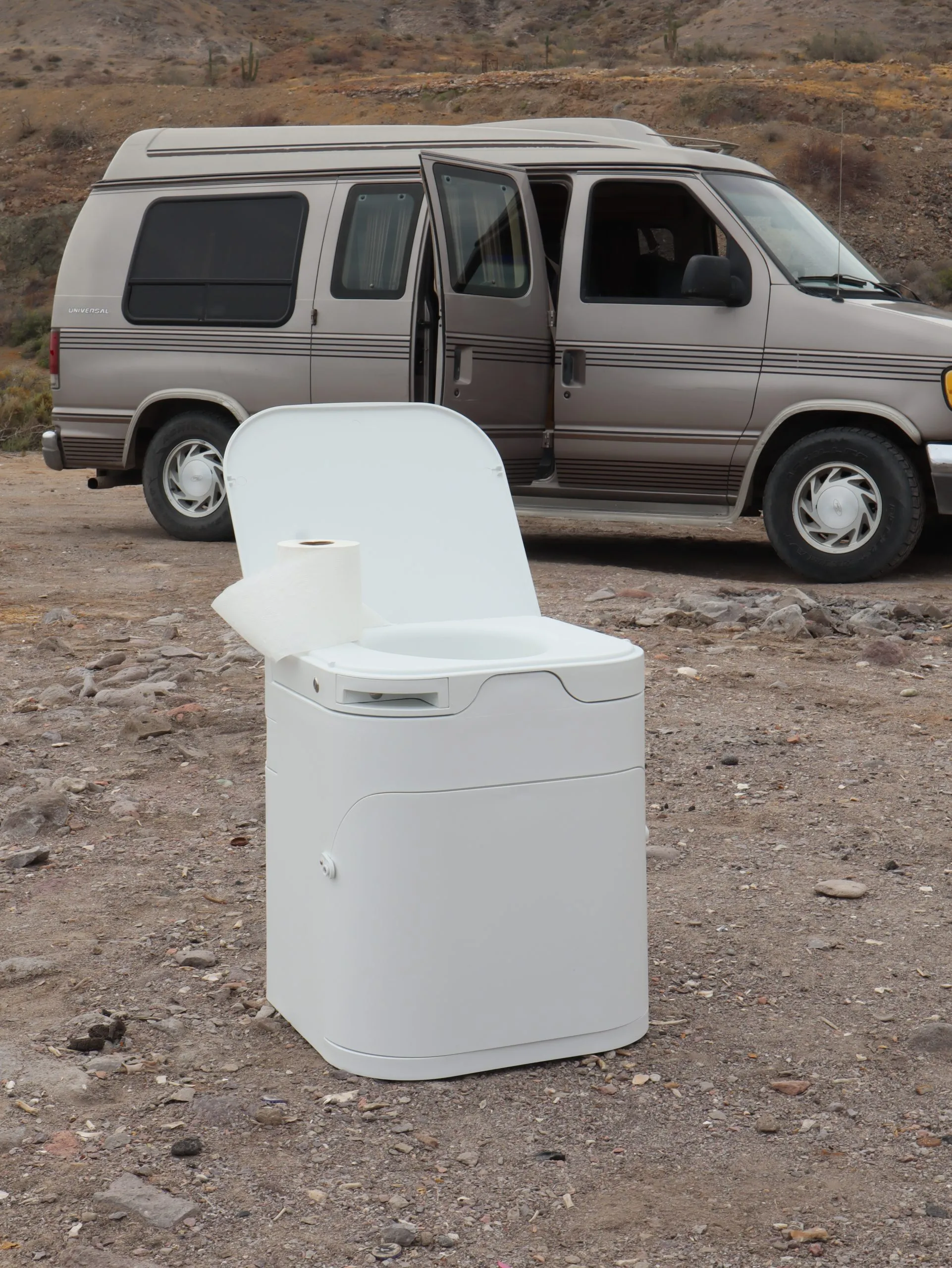 Affiliate Disclosure: This article may contain affiliate links. BeginRV may receive a commission at no additional cost to you. 
How Does an RV Compost Toilet Work?
First, let's look at how an RV composting toilet works. Composting toilets break down your solid waste material via a biological decomposition process. Solid waste is mixed with an absorbent material – like Coco Coir – which boosts the aerobic condition. This warm, moist environment breaks down the waste into compostable material.
This composting process requires no water. The end product is a dry compost material that reduces in volume by 70-90% during the decomp process.
OGO RV Compost Toilet Review
When OGO Toilet asked us to review their composting toilet, I was nervous but thrilled. Minimizing wasting water and more sustainable options is something that's very important to me. So the chance to review a product that is not only a sustainable sanitation system but promotes communities making real changes to help the environment? I was in!
Now for the RV compost toilet review.
OGO Compost Toilet
Right off the bat, the OGO Composting Toilet seems high quality. The packaging and components are individually wrapped and sealed. Within the manual, there is a stamp and signature from a real person that certifies this toilet passed their internal quality standards.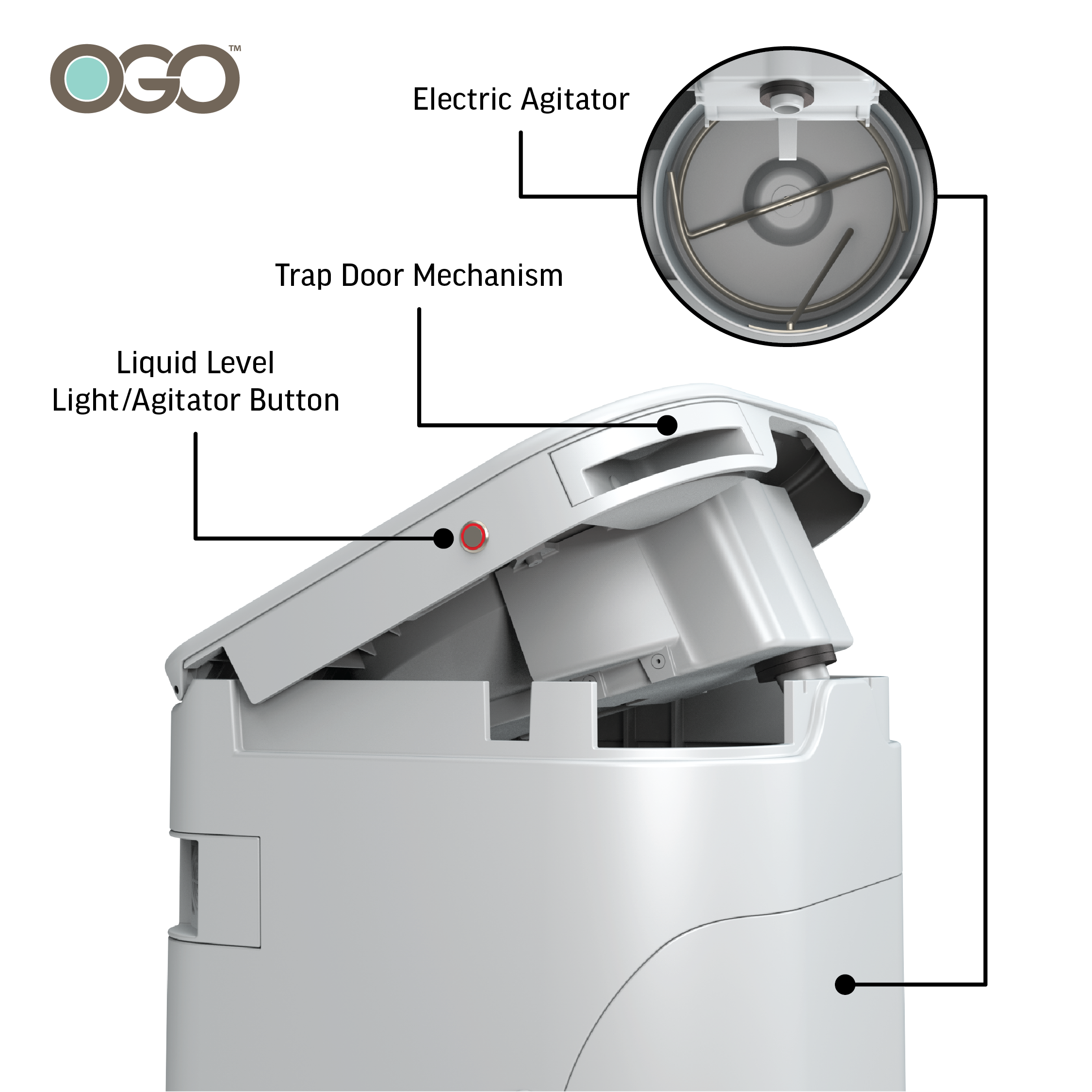 How to Set Up Your Composting Toilet
The OGO Compost Toilet was very easy to set up. You simply add the Coco Coir product to the solid waste container and connect the power.
Add Coco Coir product to the solids bin to the appropriate fill amount
Spray the Coir with water until it's wet to the touch
Agitate the medium with the agitator until it's fluffy and meets the proper fill line
The system comes complete with the wiring to connect the toilet to a 12V battery – like your RV battery system. For people who want to install their composting toilet somewhere else – like a camper van or even your house – make sure you put the power adapter cord in your cart.
Once it's set up, you are good to go #1 or #2!
Do You Have to Change How You "Go"?
For those who sit when they "go", there is no change in how you do your business. The liquids are diverted by the patented urine diversion technology into a separate bottle.
For those who stand… well it's actually recommended that you sit. Fun fact, sitting has a more favorable urodynamic profile, allowing the bladder to empty faster and more completely.
When it's time to go #2, open the trap door to the solids bin. Then do your business – you can throw your toilet paper in the solids bin as well. When you're done, close the trap door and press the button to turn on the agitator.
To keep your composting toilet from smelling, it's recommended to spray the bowl with water and wipe it down after each use.
How Often Do You Have to Empty the OGO Toilet?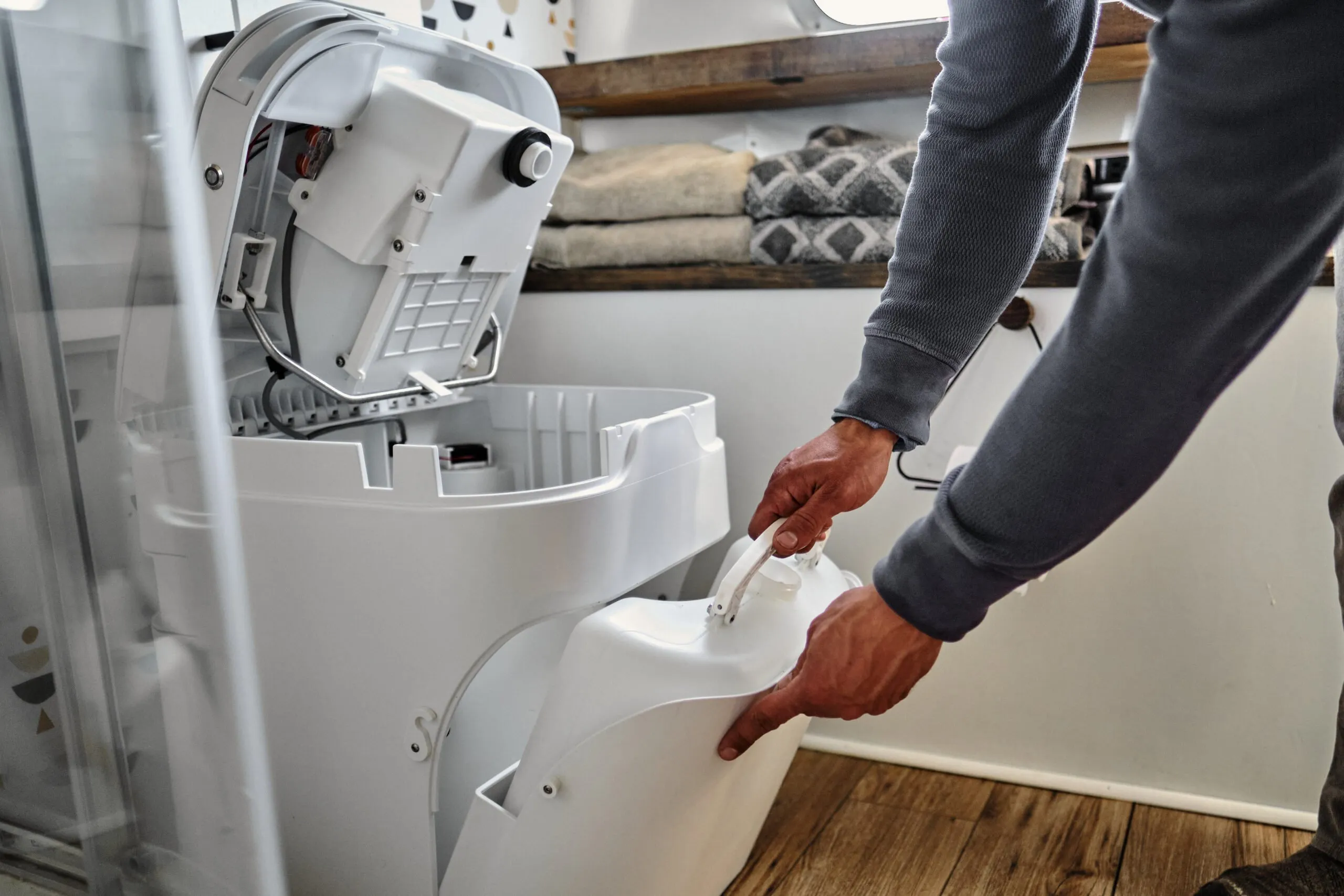 Similar to your RV's blank tanks, you have to do some maintenance to keep your compost toilet problem-free. The solids bin has a capacity of 25-30 uses before it needs to be changed. On the other hand, the urine bottle holds just 2.4 gallons. Not that you asked, but the normal range for a 24-hour urine volume is 800 – 2000 milliliters. So that's about 4.5 days for one person.
Do RV Composting Toilets Smell?
Here is the big question! Do compost toilets smell? Not if you look after the system correctly. Just like your water-filled toilet, if you don't clean your toilet, or maintain your RV's black tank chemicals, you're going to smell it.
To keep your compost toilet from smelling, you may have to adapt to some new practices – like spraying the toilet with water after use.
The OGO Toilet also comes with a 5-foot venting hose and charcoal filters to keep your toilet properly ventilated.
Things That Could be Better
Let's be real – there are some minor things that could be better. That's true for any system though. For us and the OGO Toilet, there were 2 things that stood out that would make it even better.
The portable compost toilet is tricky to move around because it's an awkward shape and kind of heavy. If you are looking to do your business on a scenic beach or hauling it around your camp, a set of handles would make this so much easier.
There is no analog version. The OGO toilet has to be plugged into a power source to agitate the solids bin. This is great in your RV or house, but in a camper van where power is scarce, a manual method would be great.
So, Which is Better? Composting Toilet vs RV Toilet
If you're considering making a change in your RV, let's look at which is better: a composting RV toilet or your regular RV toilet.
RV Composting Toilet Pros and Cons
Like everything in life, there are pros and cons to a compost toilet for RV use.
Pros of a Composting Toilet in Your RV:
Composting toilets are a sustainable sanitation option. They use even less water than your RV toilet (and way less than your regular household toilet).
No dealing with your RV black tank or the chemicals needed.
Option to dry camp or boondocker for longer.
No risk of frozen "poopsicles".
Ability to replace your black tank with an additional fresh water tank.
Cons of a Composting Toilet for Your RV:
Composting toilets are slightly larger than RV toilets. While an OGO toilet should fit within your existing RV bathroom footprint, you might lose some floor space.
Similar to dealing with your black tank, with a composting toilet, you have to deal with your solid and liquid waste. In this case, you have to bag the compost mix and dispose of it somewhere legal.
You need to carry a mixing medium.
The initial investment of a composting toilet is higher – a composting toilet typically starts at around $1000.
Can You Put a Composting Toilet in an RV?
So, can you put a composting toilet in an RV? Yes! You can put your favorite composting toilet (ours is the OGO) in your RV, camper van, boat, or even your sticks-n-bricks home!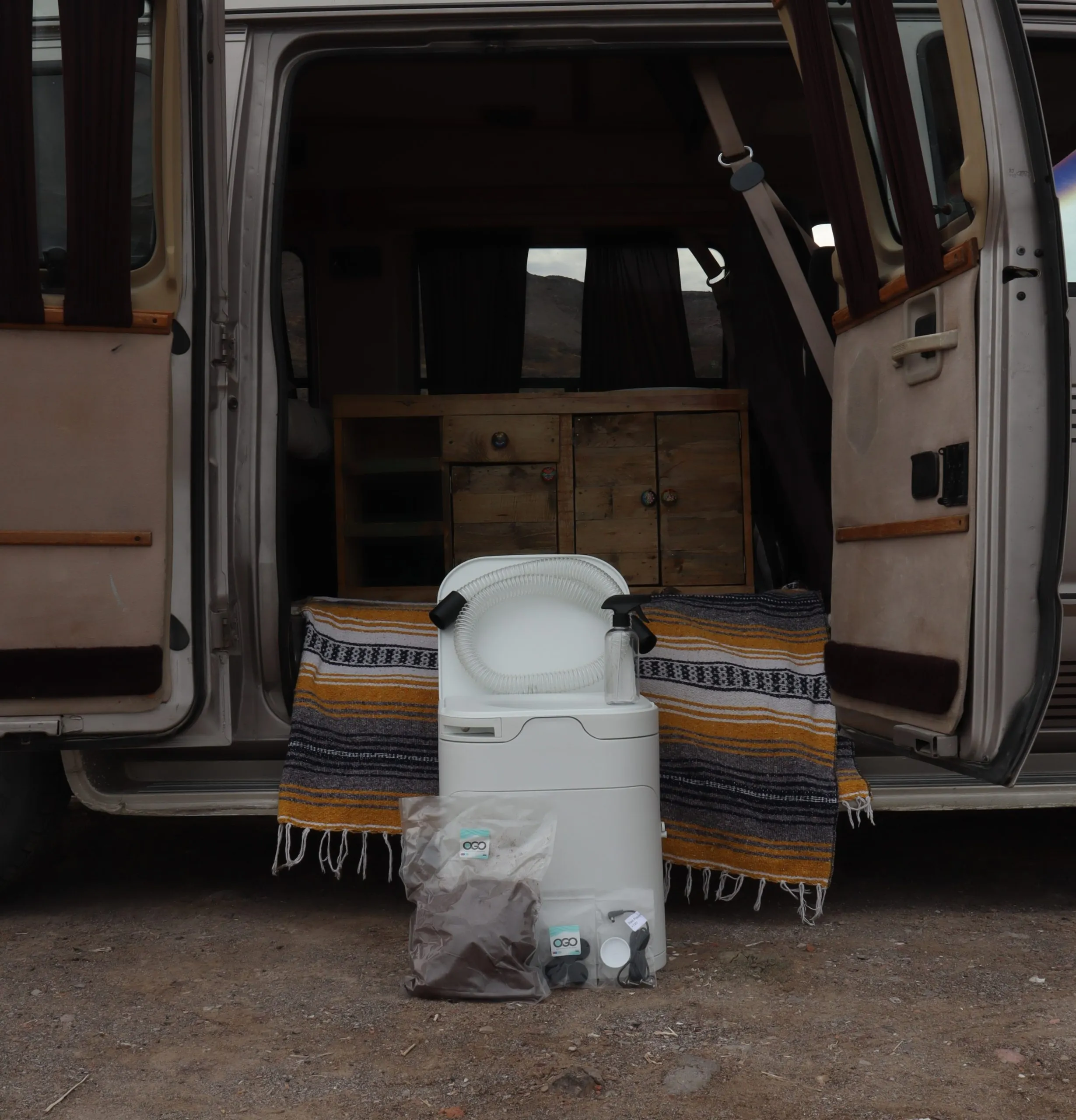 The OGO Composting Toilet Passes Our RV Composting Toilet Review!
After some initial skepticism, the OGO toilet is a great option for a portable compost toilet for an RV. We are excited to go on longer van adventures with our OGO toilet in tow – especially for minimizing late-night trips to the bathroom in the dark.
What do you think? Would you try a compost RV toilet?
Begin RV readers get $50 off their OGO Toilet when they use coupon code BEGINRV50.