For as long as van conversions have been popular, most major van conversion companies have been located on the west coast. But as van life has grown more and more over the last few years, more and more companies are appearing on the east coast. For example, you might be surprised to find there's a variety of van conversion companies in New York. In fact, there's even one in the heart of New York City!
We've gathered our top 5 picks for the best van conversion companies across New York state. Let's take a look at each. 
Best in New York City: Brooklyn Campervans
Located in the heart of Brooklyn in New York City, Brooklyn Campervans is the best (only) van conversion company in NYC. Founded by the two-man team of Arthur and Oliver, Brooklyn Campervans makes high-quality custom builds based on the ProMaster 136 and 159 chassis. They also offer pre-built vans based on a Sprinter chassis. 
The standard Brooklyn Campervans build includes high-quality construction, chic design, and great features. Brooklyn Campervan also sells their custom "swing out panels," which provide panoramic views from the inside of your van. 
Location: Brooklyn, NY
Website: www.brooklyncampervans.com 
Phone Number: (718) 213-1619
What Customers are Saying:
"Arthur & Oliver made the whole process simple & easy and got me my dream Van. It's exactly what I wanted and I couldn't be happier. If you're looking for a custom van Brooklyn Camper Vans is the way to go" – Jay Oliveira
Best on Long Island: Outerly
In Cutchogue, out on the North Fork, you'll find Outerly, the only New York campervan conversion company on Long Island. Outerly got its start when founder Michael Soares bought a Sprinter van and DIY converted it in his mother's driveway in Northport. After receiving tons of compliments around town, and even offers to buy, Michael decided to start his own company, and Outerly was born. 
 Outerly offers both prefab and fully custom van builds, using Mercedes-Benz Sprinters as the base. They also sell a variety of parts and accessories for your own van build, like batteries and solar controllers.
Location: Cutchogue, NY 
Website: www.outerly.life/ 
Phone Number: (631) 888-9393
What Customers are Saying:
"Michael and his team did a full conversion on my brand new Sprinter van. It is exactly what I had asked for, on schedule and on budget… The whole van is a work of art." – Iane duPont
Best in Upstate New York: Agor Van Life
Rochester's Agor Enterprises has more than 40 years of experience building custom vans. This makes them the most experienced van conversion company not just in upstate New York, but in the whole state (and much of the East Coast). 
Most of their history has been focused on building mobility vans for the handicapped. But in 2020, they started getting requests for camper vans. They took on the challenge, and so Agor Van Life was born. 
Agor Van Life takes their huge wealth of experience and knowledge and uses it to make some of New York's best van conversions. They offer fully custom builds, as well as selling pre-built vans. 
Location: Rochester, NY
Website: www.agorenterprises.com/camper-vans-for-sale/conversion-vans/ 
Phone Number: (585) 385-2556
What Customers are Saying:
"Overall, the people are nice and knowledgeable. The quality of their workmanship is excellent. They are fair and honest and will give you not only a great deal but do it with integrity." – Dave Spencer
Best for Off-Grid Electrical: East Coast Van Life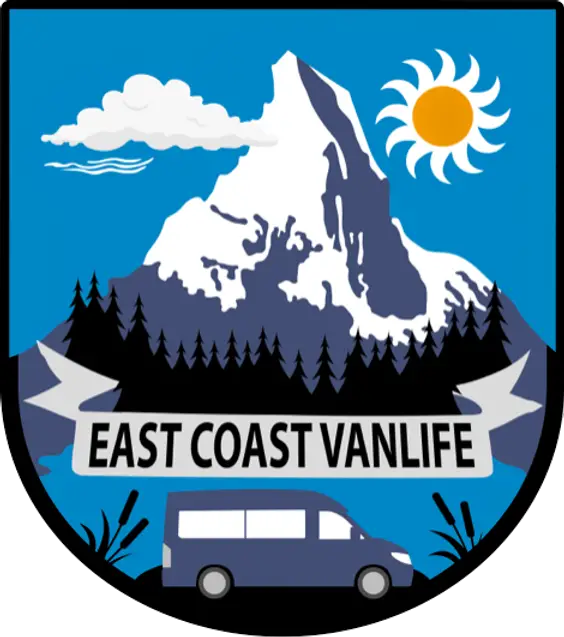 East Coast Vanlife was founded by Kyle Sheppard in 2021 after he decided to take a road trip from New York to Key West. Sleeping in the back of his small car, he thought how much more comfortable he'd be with more space. So, he built his first camper van… and the rest is history. 
East Coast Vanlife provides full custom van conversions in New York, with bespoke cabinetry made in-house. They also provide installations of off-grid electrical systems for your own DIY van builds. 
Location: Canandaigua, NY
Website: www.eastcoastvanlife.com/ 
Phone Number: (585) 430-0807
What Customers are Saying:
"The work time and cost estimate were accurate and reasonable… More importantly, Kyle is honest about any obstacles in the process and communicates to resolve them… I would recommend Kyle to anyone." – Cosby Gibson
Best for Custom Builds: Scenic Van Works
Scenic Van Works' small, close-knit team brings a big passion for camper van conversions. They're located in the small town of Addison, just over the border from Pennsylvania. Scenic Van Works will gladly build the camper van conversion of your dreams.
This camper van conversion company provides a pre-designed "grab 'n' go" van build, with great features like 200 watts of solar. Alternatively, they can also build you a fully-customized dream van. Customize your van with features like light bars, lift kits, a dry flush toilet, and more
Location: Addison, NY
Website: www.scenicvanworks.com /  
Phone Number: (857) 205-7102
What Customers are Saying:
"I had such an amazing experience working with Scenic Van Works on our 2020 Ford Transit 350HD build.  From the first point of contact to post-sale, communication has been extremely easy and SVW was always very quick to respond." – Steve Downer
Get Yourself in Your Dream Van with These New York Van Conversion Companies
Wherever you are in New York, there's a van conversion company for you. 
If you're in NY city, look no further than Brooklyn Campervans. Whichever van conversion company you choose in New York, you can rest assured that any of our picks will deliver you a great van.