With the popularity of road travel soaring, finding a campground for a one-night stop is not as easy as it once was. Campgrounds are booked up months in advance – and you can totally forget weekends or holidays. Even if you do find a campground for the night, you'll likely pay $30 or more just for the privilege of parking your RV for a few hours. Enter: Cabela's overnight parking. We share everything you need to know about free RV parking at Cabela's.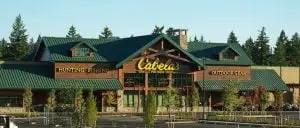 Did you know that about 22% of RVers have accessed Cabela's RV parking for an overnight stay?  With 169 retail locations (and growing) around the United States and Canada, you are likely never too far away from a free overnight RV parking spot. 
After the popularity of our Walmart RV parking guide, we are back to offer you an overnight RV parking guide for Cabela's. We'll answer these key questions: 
Does Cabela's Allow Overnight RV Parking?

Can I Park at Cabela's for More Than One Night? 

What Amenities are Available at Cabela's RV Parking Lots? 

Cabela's RV Parking Etiquette 
Are you ready to learn about Cabela's RV parking? Let's do it!
Does Cabela's Allow Overnight RV Parking?
Overnight parking is allowed at most Cabela's locations. 
Although there is no published corporate policy on the topic, most Cabela's stores allow overnight RV parking for FREE. The Cabela's locations that do permit overnight RV parking will have trailer parking (long spots that are specifically designed to fit a trailer or RV). 
Just to make sure that your intended Cabela's location permits overnight RV parking, we always recommend that you call ahead of time to confirm with the store. Even if the Cabela's store has dedicated RV parking on site, the right thing to do once you arrive is to go inside and ask the manager if you can park overnight. 
What are some of the reasons that Cabela's might not permit overnight parking? 
Town or city ordinance that prohibits overnight RV parking 

Safety considerations if there has been a previous incident or incidents that have caused the store to reconsider its RV parking policy 

Upkeep (trash cleanup, security, lighting) has become a burden on the location 
Where Else Can I Park My RV Besides Cabela's?
If a store manager says "NO" to overnight parking – this means NO PARKING. If you decide to park against the rules you can be considered a trespasser on the property. 
There are other options for parking lot camping. If you're looking for a one-night stay, check out Cracker Barrel, Big 5, Home Depot, REI, Sprouts, or Whole Foods. Other big-box stores might allow it on a store-by-store, manager-by-manager basis. Just make sure to confirm with the store's manager.
Can I Park at Cabela's for More Than One Night? 
No, you should not park your RV at Cabela's for more than one night. 
Cabela's overnight parking is intended as a short stopover for travelers needing a place to stay. They are not intended as long-term camping destinations. 
By generously offering RVers space to park in their lots, Cabela's is assuming a liability risk that not many other large corporations would take. There is not much to gain and everything to lose should something go wrong on their premises. 
If this "privilege" is abused by travelers who use the parking lot for long-term stays, you can expect that more and more stores will reverse their stance on overnight RV parking.  
What Amenities are Available at Cabela's RV Parking Lots? 
While each Cabela's may offer slightly different amenities to overnight RV travelers, for the most part, you will find similar amenities at most locations. In our opinion, any amenity is generous for the free overnight parking! 
Here is a rundown of what you can expect. 
Electricity Hookup 
You will not find an electricity hookup for your RV at Cabela's. Except for Cabela's RV park in Sidney, Nebraska, we have not heard of any locations with an electricity hookup for RVers. 
RV Dump Stations
Many Cabela's RV parking lots will have an RV dump station. The charge for using Cabela's RV dump station is $5, which can be paid by credit card. 
*Pro Tip*: If you make a purchase inside Cabela's and ask for the dump station code, they will often give it to you so you can empty your RV tanks free of charge. 
Water
Some Cabela's RV parking lots will have potable water! It has been reported that the Cabela's in Billings, Montana, Hamburg, PA, and Rodgers/Maple Grove, MN all have stations to fill potable water (for free!).
If readers know of any more Cabela's with potable water please include them in the comments below!
Cabela's RV Parking Etiquette 
The ethos behind boondocking, whether in nature or in a Cabela's RV parking lot, is to "leave no trace". Campers should always leave campsites just as they found them – which means the proper disposal of waste.  
Here are some guidelines to follow when overnight parking at Cabela's. These are the unwritten "no-no's" that responsible and ethical travelers follow when boondocking overnight at a Cabela's. 
Do not: 
Park overnight without permission

Park in the wrong part of the parking lot

Run a noisy portable generator at night

Stay more than one night  

Set up camping equipment (lawn chairs, BBQ grills, even inflatable swimming pools) outside your RV

Leave trash in the parking lot

Dump gray and black water in the lot or in storm drains 

Be noisy, including playing loud music on the premises
To preserve Cabela's overnight parking for the next generation of RVers, it is critical that you abide by these guidelines and be respectful both to the store and your fellow RVers. 
A Word On Making a Purchase at Cabela's While Parking
While it is by no means a requirement or rule, we believe it is the proper thing to do to make a purchase at the store if you plan on using Cabela's overnight parking. We know that many RVers will vehemently disagree with our stance, but we think it's an important ingredient in the relationship between RVer and the store.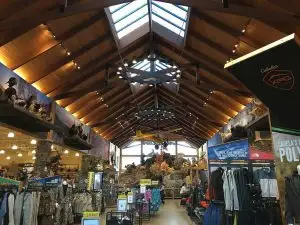 Think of yourself as a guest who is invited to stay overnight at someone's house. You don't need to make any grand gesture, but as a simple "thank you" you might buy a $5 mug or $10 t-shirt. 
Also, take a second to consider the alternative. If places like Cabela's or Walmart did not allow overnight RV parking, you would likely need to find an overnight campground to stay at for $30 or more. Making a token purchase is a small price to pay for this huge convenience. 
Final Thoughts On Cabela's Overnight Parking
Cabela's maintains a generous tradition of allowing travelers to park overnight at (many) of their stores. We know the skeptics will say it's just a marketing ploy to get more customers into their stores – but the slight uptick in business they receive from overnight parkers doesn't seem like a huge benefit compared to the risk.   
If you do plan on utilizing Cabela's overnight parking – be respectful. Do your part to keep the solid special relationship between Cabela's and its customers going by following rules. In a day where it seems that every big corporation is trying to squeeze every dollar out of us, it is refreshing that we can enjoy this special little perk. 
If you've stayed at Cabela's overnight, please share your experience below! We'd love to hear from you. 
     Easy Travels,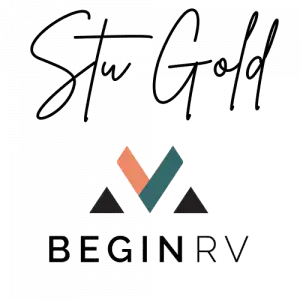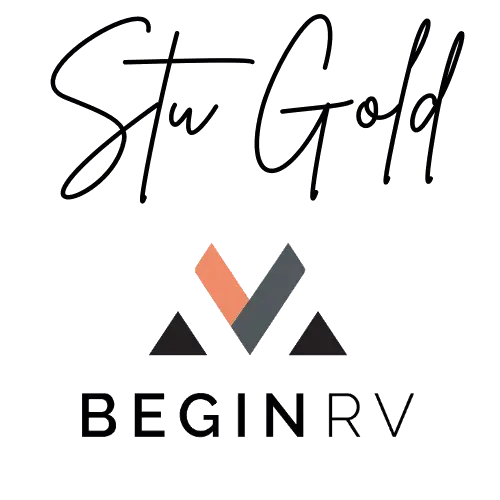 Looking for more free RV parking options? Check out: Walmart RV parking!