A major surprise for many new and beginner RVers is just how quickly your RV or trailer will get dirty. Not just dirty, but F-I-L-T-H-Y … filthy! 
We're talking hundreds of bugs splattered on the windshield. Mud caked on the outside. Dirt, grass and dust on the inside. Mold on your awnings. The list goes on-and-on. 
A hose and dustbuster are simply no match for the mess. 
Detailing your RV or trailer will extend the life of your investment and help you avoid costly damage to your rig. More importantly, a good RV detailing will make you feel like a confident and proud owner. 
Today we'll cover all the basics you need to know about RV detailing:
What is RV Detailing?
Why Get your RV Detailed? 
How Much Does RV Detailing Cost? 
Mobile RV Detailers
Do I Tip My RV Detailer? 
Best Products for the DIY'er
Ready to learn the ins-and-outs of RV detailing?
What Is RV Detailing? 
Professional RV detailing is the process of cleaning and restoring your RV or trailer vehicle to like-new condition. Compared to a regular RV wash, RV detailing services are much more extensive with particular care and attention paid to details of your motorhome (hence, "detailing"). 
RV detailing will be done by hand. This type of professional cleaning process involves professional cleaning techniques and products that you will not find at an ordinary wash.  
A full RV detail service typically involves:
Washing and waxing the exterior
Cleaning the wheel wells and shining tires
Cleaning the awning and roof
Resealing the roof and checking seals
Oxidation removal
Polishing windows
Vacuuming and steam-cleaning carpets and upholstery
Dusting and sanitising interior surfaces
Cleaning all doors and the cockpit area
Cleaning built-in appliances
Cleaning the water system
Detailing an RV is not like cleaning your family sedan. It involves skill, experience and equipment specifically designed for your RV. 
Why Get Your RV Professionally Detailed?
Many new RVers see RV detailing as a luxury instead of a necessity. This is a huuuuuuge mistake. Here are some reasons why you need to get your RV professionally detailed:
Your RV Is An Investment
Your RV or trailer is not just a vehicle, it's an investment. Costing anywhere between $10,000 and $300,000, it's just not good business to allow your investment to rapidly deteriorate by not taking care of it.
Just like your residential home, your motorhome needs TLC. Many new and beginning RVers will take care of pressing maintenance issues, but will forget the simple step of having their RV cleaned and detailed on a regular basis.
Failure to take care of your RV can lead to superficial issues such as sun damage, scratches and a dirty overall appearance, but can also affect the safety and functionality of your rig. Issues like mold, mildew and deterioration of key materials can cause health and safety issues that can take your RV off the road prematurely.
Think of the $200-500 you may spend on detailing as a form of insurance.
RVs Are Difficult to Detail Alone
RVs and trailers can range anywhere from 20 to 40 feet long, are 10 to 14 feet tall and 8 to 9 feet wide. It's impossible to reach the majority of an RV without a ladder or extender to get those hard-to-reach places. 
To thoroughly wash and clean RV by yourself we estimate it would take you anywhere between 10-12 hours – literally a full day of work … and that's not even taking the cost of supplies into consideration. 
This said, if you are interested in DIY detailing, check out our DIY Guide to RV Detailing that provides a step-by-step breakdown of the process.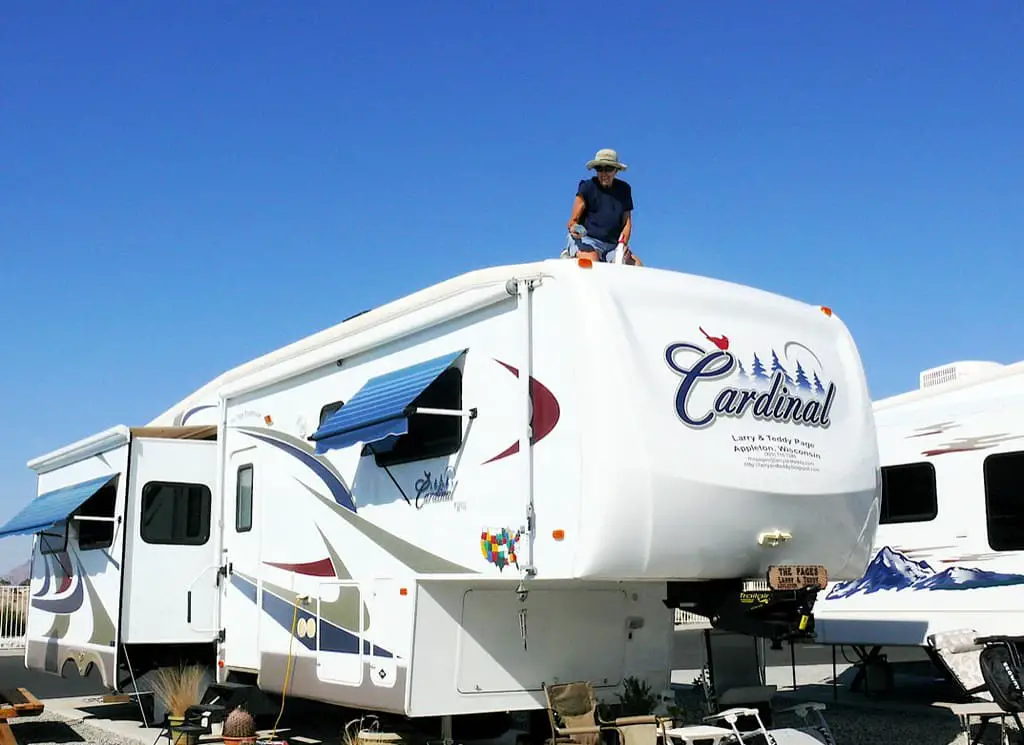 Outside the labor required to clean an RV, there are many reasons why you want to get your RV or trailer professionally detailed: 
Studies show that living in a clean space has many benefits on your health and well-being. Besides getting rid of allergens like mold and dust, getting your rig detailed will help you think clearer and feel more confident on the road. 
Getting your RV detailed can help prevent irreversible damage to both the interior and exterior of your rig. A dirty RV can damage your RV paint, may lead to mold and, if bad enough, can adversely affect the mechanics of your rig.  
The soaps and chemicals used at regular vehicle washes are harsh and can easily damage sensitive RV materials like vinyl, rubber, aluminum and fiberglass gel coats. 
The pressure sprayer of typical car washes can run the risk of stripping the wax or paint off your RV. 
If your RV is heavily oxidized and sun-damaged, it will need to be buffed with special compounds to remove rust and restore shine.
The techniques and products you use to clean the exterior of your RV or trailer will depend on the type of cladding. For example, an aluminum-clad RV requires specialist knowledge to know that you can't use chlorine-based products and should avoid wiping against the grain.
For regular travelers, you should consider getting your RV detailed twice a year. The best time to detail is right before you put your RV away for the winter, or in the spring as part of your de-winterization routine. 
How Much Does RV Detailing Cost?
There's no one-price-fits-all when it comes to professional RV detailing. The cost to detail your RV depends on a number of factors:
Your RV or Trailer Size
Level of Detailing
The Age of Your RV or Trailer
The Experience Level of the Detailer
Let's take a closer look. 
RV or Trailer Size
Most RV detailers charge according to the length of your coach – usually per foot. Prices start around $5/foot for a simple exterior wash, and go up to as much as $45/ft for a full interior/exterior showroom detail.
This means that your Class A motorhomes and Travel Trailers will cost more to clean than your smaller Class Cs and Pop-Up Campers.  
On average, you can expect to pay somewhere in the vicinity of $10 to $30 per foot, depending on the type of package you choose. 
Using the figures above as an example, for a mid-sized, Class C RV or camper (let's say one that's 25 feet in length), you can expect to spend roughly: 
 $150-250 for an exterior wash only, and; 
 $400-600 for a full interior/exterior detail 
Of course, the price will depend on the level package you choose. Speaking of … 
Level of Detail Service
A professional detailing service will typically offer a number of packages ranging from simple (basic exterior wash) to the full sha-bang (full exterior/interior detail). 
You should be able to get a basic exterior rinse and wash for around $5 a foot, while a premium detail of the interior/exterior can be up to $30 a foot. 
Many RVers save costs by getting the exterior detailed professionally, while personally doing the interior detailing themselves. 
RV Age
The age and condition of your RV can have a big impact on detailing costs. Typically, the older the RV the more care that needs to be taken during the cleaning process. 
Here are a few of the age-related considerations that may increase the cost of your RV detailing: 
Older RVs will often have years of dirt build-up, stains, and oxidation that will require more time and effort to detail compared to newer units;
Older models tend to have aluminum exteriors which requires special care to prevent or repair scratches and corrosion;  
Older units may have cracked or damaged roof and doors that allow water, dirt and moisture to seep into the walls of your RV. This may damage your electrical systems or cause mold or mildew build-up that can lead to potential health problems for the occupants. This requires extra care during the cleaning process. 
Level of Experience
The more experience a detailer has, the greater the chance you'll receive a higher quality of service. Like anything else in life, with RV detailing you pay for what you get. 
Do yourself a favor and ASK about the experience and expertise of the detailing service. Ask questions like: 
How long have you been in business? 
What type of motor coaches are you familiar with cleaning? 
What products and equipment do you use? Are they eco-friendly?  
If a detailing company is not willing (and happy) to answer your polite questions it should be a major red flag right from the start.  
How About Mobile RV Detailing Services? 
Mobile RV detailing services will come directly to your home or campsite to detail your rig. Mobile detailing is an increasingly popular option as owners will pay for the added convenience of not having to travel and wait to get their RV cleaned. 
If you plan on having a mobile RV detailer come to a campsite, it's important to check with the campground manager first. Some campgrounds may not allow on-site detailing for insurance reasons.  
As services like mobile RV detailers and mobile RV mechanics gain in popularity, it's important you do your research to find a quality service provider. The barrier to entry into this business is low, so you will find the quality can vary greatly between providers. 
One of the things to note about mobile RV detailing is that they will likely need to hook up to your water source. As RV detailing can use up to 100 gallons of water per wash, you should be mindful of this added expense that you may not have anticipated. 
You may pay a little more for a mobile detailing service, as they have to factor mileage into their costs. However, most RVers are willing to pay extra for the convenience. 
Do You Tip RV Detailers?
Whether or not you should tip a detailer is up to you, but we always like to tip for quality service. Detailing an RV can be grueling work, and if we're honest, it's not the best paying job for all the work that goes into it.
We recommend taking the time to inspect your RV once the job is done. Did the service meet or exceed your expectations? Did they have a great attitude? Excellent customer service skills?
If the answer is "yes" to these questions, then a tip would be warranted (and very much appreciated) in these situations. 
A tip of about 10-15% of your total amount is a very nice gesture. It shows that you appreciate a job well done. Considering that you may only get your RV detailed 1-2x a year, it is not a big financial sacrifice and will help build a great relationship with your service provider. 
The Best Products for DIY RV Detailing
While hiring a professional RV detailing service is often the best option for a full interior/exterior detail, there are plenty of DIY'ers who don't mind putting in the hard work to detail their own RVs.
*An important note for DIY'ers*
CAREFULLY read your owner's manual to understand what products you can use on your particular RV, Trailer or Camper. Some cleaning products are only made for certain materials (i.e. aluminum).
Incorrectly applying products to your RV can seriously damage your motorhome and cost you thousands of dollars to repair.  
If you are one of those people who prefers to DIY, here are a few quality detailing products to get you started
(*Please note that if you purchase a product below, BeginRV may receive a small commission. This will help us keep our site up and running!)
Aero Cosmetics Waterless Wash Wax Mop Kit 
Aero Cosmetics Products offers a great waterless detailing kit that includes everything you need to clean and wax your exterior with no more than a gallon or two of water. 
The kit comes with a sturdy, adjustable DeluxeMop pole, microfiber Mop Pads, Aero towels, a gallon of Wash Wax ALL, a bottle of Wash ALL degreaser, a spray bottle, scrubber pad, and a convenient clear-plastic carrying case to keep it all together in one place. 
The kit was originally designed for aircraft, but works just as well on RVs and campers. Aero Cosmetics's Wash Wax ALL solution is specially formulated to produce a clear, waxed finish during drying. 
Their durable pole and unique mop head allow you to reach everything while keeping your feet firmly planted on the ground. The head is designed to use their wash-wax solution efficiently, giving you more value for your money.
The best part is that you won't need to use 100 gallons+ of water to detail your RV. It's not only good for the environment, but good for your wallet.
Meguiar's M4916 Marine/RV Heavy Duty Oxidation Remover
Meguiar's Marine/RV Heavy Duty Oxidation Remover, Oxidation,...
MADE FOR SPECIALIZED FINISHES: This versatile boat polish clears surface degradation on gel-coat and fiberglass surfaces typically found on boats and RVs.
POWERFUL FORMULA: While diminishing polishing compound abrasives smooth the surface, feeder oils leave a 'like new' vibrance and shine.
RESTORE COLOR: Restore the original color of older fiber glass gel coat surfaces by effectively removing surface degradation while adding polishing oils to restore color, gloss, and shine.
SAFE ON SURFACES: The abrasives in this fiberglass restorer for RV and marine vehicles make quick work of scratches, water spots, stains, and oxidation, then break down and disappear to preserve the...
USE IT YOUR WAY: Our Marine and Rv exterior scratch compound delivers excellent results whether working by hand or by machine.
Time, the elements, and the sun's harsh UV rays will eventually cause your RV's color to fade and make it look far older than it actually is.
Meguiar's has you covered with their high-quality M4916 Marine/RV Heavy Duty Oxidation Remover. This product is so effective at removing light to moderate oxidation from fiberglass and gel coats that over 2,000 Amazon customers awarded it and average of 4.6 stars.
Meguiar's product line is reasonably priced and designed for everyone from the average consumer, to professional detailers, to classic car enthusiasts.  
Aluminum Brightener & Restorer by Quality Chemical
Aluminum Brightener/ Stain Remover / Cleaner & Restorer /...
FORMULATED FOR ALUMINUM SURFACES - Quality Chemical Aluminum Cleaner & Brightener & Restorer is specifically designed for aluminum surfaces. It easily removes oxidation, stains, and yellowing from all...
MADE IN THE USA - Quality Chemical Aluminum Cleaner & Brightener & Restorer is proudly made in the USA with the highest quality ingredients available.
EASY TO USE - Simply mix 1 part cleaner to 4 parts water, apply to surface with a sponge or brush and rinse off with clean water. No scrubbing required!
SAFE FOR ALL ALUMINUM SURFACES - This cleaner is safe for use on all types of aluminum including wheels, rims, pontoon boats and more!
RESTORE YOUR ALUMINUM TO A LIKE-NEW SHINE – Quality Chemical Aluminum Cleaner & Brightener & Restorer will restore your aluminum to its original shine with just one application.
Quality Chemical's Aluminum Brightener makes cleaning and restoring aluminum easy. It's sold in a 1-gallon jug and is highly concentrated, allowing you to dilute it to suit your cleaning needs. 
Please note that this is a cleaning solvent that strips the coating from the surface of the metal. While the product is downright magical in restoring aluminum, I highly recommend following up cleaning with a high-quality aluminum polish and sealant to prevent future oxidation.
Chemical Guys TVD_107_16 V.R.P.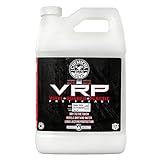 Chemical Guys TVD_107 VRP Vinyl, Rubber and Plastic...
THE ULTIMATE PROTECTION - VRP is an easy-to-use protectant that restores a deep black look, enhances shine, and protects vinyl, rubber, and plastic surfaces against harmful weather conditions and...
IT'S ALL ABOUT RESULTS - Vinyl, rubber, and plastic trim are sensitive to fading and staining caused by harmful weather conditions; VRP helps restore a like-new appearance to exterior and interior...
NON GREASY WATER BASED FORMULA - Achieve a non greasy deep wet look on both interior and exterior vinyl, rubber, plastic and tires with this water based dressing. Quick and easy application with no...
DRY-TO-THE-TOUCH FORMULA: Premium sprayable VRP Super Shine Dressing finishes dry-to-the-touch and will not attract dirt or dust. Easy to use premium spray keeps exterior rubber and plastic looking...
Rubber, vinyl, and plastic parts on your RV need special attention – the material can dry out and crack if ignored or treated with harsh chemicals. 
Chemical Guys is one of the top leaders when it comes to cleaning solutions. They have a product for pretty much everything, including delicate materials that require special care to keep them looking and performing their best. 
TVD_107_16 V.R.P. by Chemical Guys garnered a 4.7-star review on Amazon, and for good reason. This special dressing restores, enhances, and protects rubber, vinyl, and plastics. 
It's good for both interior and exterior use on things like tires, vinyl trim, bumper parts, dashboards, door interiors, and window molding. It's designed to protect against drying, cracking, and harmful UV rays. It also helps repel dust, mildew, and excessive moisture. 
Chemical Guys SPI_993_16 Nonsense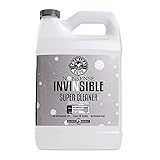 Chemical Guys SPI_993 Nonsense Colorless & Odorless All...
WE MEAN BUSINESS, NO NONSENSE - A powerful, versatile solution for all your cleaning needs. Removes dirt, grime, and stains effortlessly, leaving surfaces looking brand new without leaving colors,...
CLEAN ANY SURFACE IN SECONDS - Say goodbye to stubborn stains Chemical Guys Nonsense Cleaner. Its advanced formula tackles grease, oil, and dirt, restoring surfaces to their original shine.
TRANSPARENT CLEANING TECHNOLOGY - Nonsense Invinsible Super Cleaner's fast-acting formula works on various surfaces, from upholstery to engine bays, delivering professional-grade results every time.
EXPERIENCE THE ULTIMATE CLEANING POWER - With Chemical Guys Nonsense Invinsible Super Cleaner; Its gentle yet effective formula is safe for all surfaces, making it a must-have for auto enthusiasts and...
THE GO TO BRAND IN CAR CARE - Car lovers choose Chemical Guys, not only for the finest car care products, but the world class customer support and vast detailing knowledge Chemical Guys is more than a...
Nonsense is a colorless, odorless, all-surface cleaner that does the same stellar job of removing stains and grime. 
It comes concentrated in a spray bottle, so you can dilute it for light work or apply it straight for those tougher jobs. It's low-foam formula will not leave behind residue, and while it's hard on dirt, it's gentle enough to use on delicate fabrics and surfaces. 
It utilized natural citrus extracts and is pH-balanced, making it safe to use on painted surfaces. From engine covers to upholstery, it's the perfect DIY detailing product for your RV.
Conclusion
Detailing your RV or trailer is not so much a luxury, but a necessity for RV owners. It's about protecting your investment and feeling good about your home.
Let's review what we learned today about RV detailing:
A professional detail can restore your RV to near-factory-like conditions. 
Detailing your RV, camper or motorcoach at least twice a year is recommended. Once may be enough if you keep it tidy and protected from the elements most of the year. 
Detailers usually charge by the length of your RV or camper. Expect to pay anywhere from $5 – $45 per foot, depending on the detailing package you choose.
Detailing can be as basic as a light exterior wash, or as thorough as a showroom clean, inside and out. Some special services are offered at a fixed rate. 
Interior detailing often includes cleaning appliances, vacuuming and shampooing carpets and upholstery, surface cleaning of the bathroom, kitchen, and cockpit, and wiping door frames and seals. 
Leave a tip if your detailer shows a good work attitude and goes out of their way to ensure your satisfaction.
If you decide to do detailing yourself, read up on your owner's manual to learn about safe cleaning materials. Research proper cleaning and maintenance of these materials. Buy the right products and use them correctly. 
That's it travelers! We hope you found this article helpful. We'd love for you to share your own tips about RV detailing in the comment section below. We are always eager to learn practical advice and techniques from our friends on the road.
Until next time, easy travels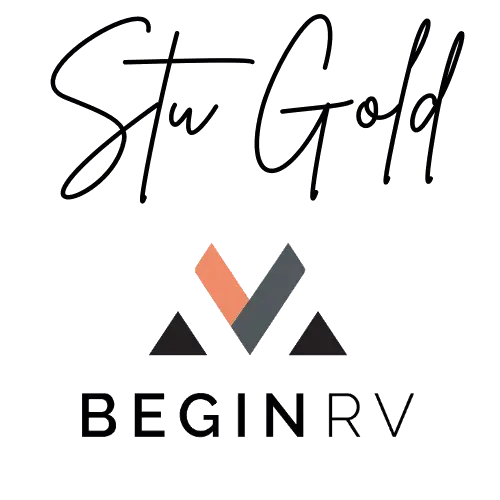 Last update on 2023-09-09 / Affiliate links / Images from Amazon Product Advertising API