Have an extra $250,000 cash lying around?
Oh you do? Perfect, because you can use that money to pay for things like your mortgage, healthcare, your kids schooling OR you can get yourself the ultimate home on the road. 
Forget responsibilities, I'm going with the Class A Toy Hauler. 
Just like a leprechaun or Bigfoot, it's not easy to find a Class A Toy Hauler in the wild. Rumors of their existence are often disputed, but we are here to tell you … 
Even if you've never come across a Class A Toy Hauler on the road, you've come to the right place to learn all about this luxurious road beast. First things first, let's answer a very basic question … 
Is There a Class A Toy Hauler?
Yes! While rare, the Class A Toy Hauler does in fact exist. This hybrid RV marries the luxury of the Class A Motorhome with the storage and power of the classic Toy Hauler. 
Both the Class A and Class C Toy Hauler continue to be a growth driver in the RV market. For those who don't want the hassle of towing a trailer, the Class A Toy Hauler allows owners to haul motorcycles, golf carts, kayaks and other large camping equipment directly in their RV. 
In fact, many RV owners are buying toy haulers not for their extra storage capacity, but to convert the garages into extra living spaces or offices. Class A Toy Hauler garages can come with its own toilet and shower turning it into a totally separate living space. 
As more and more people work remotely, the separate garage space can also function as an office. Toy Hauler garages can be outfitted with desks, chairs and all the other trimmings of a typical office – so you can work from just about anywhere in the world.
Due to its high entry cost of $250,000 or more, you will not find many Class A Toy Haulers at your nearest campsite. The hefty price tag is simply prohibitive for most middle-class campers. 
*To help operate our site, BeginRV may earn a small commission from any link you purchase from. 
What Is a Class A Toy Hauler?
Very simply, the Class A Toy Hauler is a Class A motorhome in build and style with the additional garage for "toys" at the rear. The primary difference between a typical Class A Motorhome and Class A Toy Hauler is the toy storage garage. 
To better understand the Class A Toy Hauler, let's understand the Class A Motorhome and the Toy Hauler as separate units. 
The Class A Motorhome
If you are unfamiliar with the Class A motorhome, it is the largest and most impressive of the motorized RV classes. It's typically built on either a commercial truck or bus chassis which structurally supports the body of the Class A motorhome in its construction and function.
Class A motorhomes have high-end amenities that replicate the comforts of home for its inhabitants. Class As are designed with comfort and convenience in mind with dedicated living spaces such as a living room, kitchen, bedroom and bathroom. 
Class As are fitted with high-end plumbing which allows for an indoor shower, toilet and sinks. They will also contain residential appliances such as a refrigerator, freezer, stovetop range and oven. Some Class As even have small dishwashers and laundry washers and dryers for increased convenience.
While the Class A offers luxurious amenities and residential comforts, there are three significant drawbacks to this model: 
Expense

: Good luck trying to find a new Class A under $100,000 – and even then you will be hard-pressed. Class A motorhomes are some of the most expensive on the market. You can easily drop between $150,000-$250,000 for a Class A putting this model out-of-reach for most middle-class families. 

Gas Mileage

: Expenses are not limited to purchase cost as Class As generally have the worst gas mileage of any RV class. You can expect to get a paltry 8 to 13 miles per gallon in your Class A – and maybe even lower depending on the packed weight of the vehicle. 

Driveability

: With lengths of up to 45 feet, the Class A is by no means an easy drive.  Their length and wide base can be difficult to maneuver in tight spaces and their heavy weight can add extra measures of difficulty when driving up and down steep inclines.  
Want to learn more about the Class A motorhome? Why don't you check out our Class A motorhome information page.
The Toy Hauler
The Toy Hauler is a style of RV that has both a living area and a dedicated garage space for carrying outdoor recreation "toys". Toys can be anything from recreation equipment such as motorbikes, mountain bikes, canoes and kayaks to larger items such as ATVs, golf cars, small boats or even small cars. 
The defining feature of the Toy Hauler is the storage space with the lowering garage ramp to allow the owner to put in/take out their "toys" with ease. Toy Haulers will typically have a solid wall between the "garage" and the living portion of the trailer which keeps fuel smells from entering the living space of the RV.
While toy haulers are a great way to travel with "toys", their size and weight mean they are not for every type of RVer. Toy Haulers can be significantly larger than other types of RVs, making driving, parking and maneuverability very difficult for beginner RVers.  
Want to learn more about the Toy Hauler? Check out our Toy Hauler information page.
Who Makes a Class A Toy Hauler? 
The two most popular models of Class A Toy Hauler are: 
In fact, due to their significant cost you won't find many other models of Class A Toy Hauler on the market. 
Both Newmar and Thor are well-renowned in the RV industry for making extremely high-quality and reliable motorhomes. The Class A Toy Haulers are the top-of-the-line model you will find from both these manufacturers. 
The Newmar Caynon Star model is particularly notable for its front-engine diesel chassis which means greater engine torque and fuel efficiency in the vehicle. These features make for better uphill acceleration, towing and toy hauling. 
Winnebago used to have the Winnebago Sightseer as its Class A Toy Hauler offering, but that model was discontinued a few years ago. 
How Much Is a Class A Toy Hauler?
The MSRP (Manufacturer's Suggested Retail Price) on a Class A Toy Hauler is between $250,000 and $300,000. The MSRP is the suggested retail price, but it is not actually the retail price you will pay for your motorhome.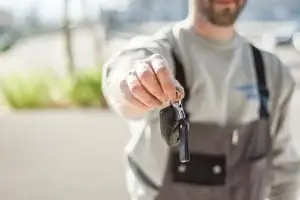 For a new 2021/2022 model Class A Toy Hauler, you can expect to pay in the vicinity of $190,000 to $250,000. The price will depend on a number of items, including: 
Type of flooring 

Windows

Appliance package

Technology package

Cabinetry finishings; 

Electric lifts 
When looking at any model of RV, you will also need to account for expenses over and above the sale price of your vehicle. Additional costs you'll want to take into consideration are: 
Vehicle Insurance; 

Electricity and Utility costs; 

Fuel costs; 

Maintenance costs; 

General wear and tear. 
Through their "Build and Price" functionality, Thor allows you to build out and get an idea of the price for a Class A. However, the pricing functionality is fairly limited and you will only be able to get the MSRP rather than the dealership price (which will be significantly lower)
The only way to find out a realistic price for a Class A Toy Hauler is to go to an authorized dealership and speak with a knowledgeable sales representative. 
Where Is the Class A Toy Hauler For Sale? 
With a price tag in excess of $200,000, you should definitely visit an authorized dealership if you are thinking of purchasing a Class A Toy Hauler. If you want to know where to start to find a Class A Toy Hauler for sale, here are a number of excellent resources: 
Use the internet to do your research – comparing models, layouts, options, reviews, etc. If you are serious about purchasing, you need to go to the dealership(s), speak with sales representatives and fully understand the different options that are available. 
Can a Car Fit In a Class A Toy Hauler?
Typically, you wouldn't purchase a Class A Toy Hauler with the intention of storing a full-size vehicle in the garage. The Class A is your vehicle and taking a full-size car along with you would defeat the purpose of the extra storage space allotted for toys. 
If you are so inclined to fit a car in your Class A Toy Hauler, you may find that you can fit a SMART car or a smaller model car like a Fiat (of course, read the manufacturer's specs to see what kind of car your model can handle – if any)
You need to remember it's not only whether or not the car will physically "fit", but if your Toy Hauler can handle the loaded weight of the vehicle and if you have a ramp that can handle a car. 
A little thing you will also need to keep in mind is even if you are able to get your vehicle into a toy hauler, how will the driver get out? If you cannot open the doors wide enough to get out, you would need to climb through the sunroof or possibly the trunk to get out of the car. 
Fifth wheel toy haulers (like the one pictured below) are likely to have larger storage space and may be able to fit certain models of vehicles.  We would suggest looking into a fifth wheel toy hauler if you plan on hauling a vehicle. 
What About Class A Toy Hauler Rentals? 
You may be able to find a Class A Toy Hauler rental … if you get lucky. 
While just five years ago it would have been nearly impossible to find a Class A Toy Hauler for rent, today it is a possibility with the rise of peer-to-peer RV rental platforms. 
Peer-to-peer rental platforms like RVezy, RVshare and Outdoorsy allow you to rent an RV directly from a private RV owner. While you won't find many Class A Toy Haulers available, you may be lucky and find one in your hometown or a town close to you. 
THINKING ABOUT RENTING AN RV THIS SUMMER? HURRY AND BOOK YOUR RVEZY RENTAL! 
The reason that Class A Toy Hauler Rentals are limited is that most owners will not want the wear-and-tear of rental on their quarter million dollar investment. Class A Toy Haulers are very difficult to drive for new RVers and the risk of damage or accident is simply too great to let just anyone rent this type of RV. 
Our advice? If you really want to find a Class A Toy Hauler rental, you will be able to find one. Many of these peer-to-peer platforms have a delivery service where you can get the RV driven and dropped off to your home for an additional fee. 
Pros And Cons Of The Class A Toy Hauler
Before we finish, let's run through our list of pros and cons of the Class A Toy Hauler.  
Pros Of The Class A Toy Hauler
Blends high-end, luxury road living with serious storage
Great for road trips with toddlers or family
Garage space can double as an office or additional sleeping area
Perfect for adventurous travelers who own their equipment
Easy access to toys from the main cabin .
Cons Of The Class A Toy Hauler
Not affordable for most people 
High cost to maintain (insurance, fuel, maintenance) 
Less sleeping room than fifth wheels, trailers 
An overwhelming amount of tech can make for a stressful ownership experience
Conclusion
The Class A Toy Hauler is a top-of-the-line, bad mama jama that offers everything you can want in a motorized RV. It's much more than just an RV, it's a traveling home that you can take out for a week of camping or live in full year round.
Unfortunately, there are not many options if you are looking for a new Class A Toy Hauler. Due to their high price tag, there are only a few models currently in production. The good news is that both Newmar and Thor Class A Toy Haulers are some of the best quality RVs you can get on the market.
We hope you learned something new today. If you didn't maybe you are just one of those Level 100 RV ninja masters who know everything there is to know about RVs … and that's pretty cool to. Either way, drop us a comment to let us know how you are doing. We love to hear from our readers.
Easy Travels,