Searching for an RV rental? You may want to sit down.
Turns out that you and half of Canada and the United States are on the hunt for an RV rental this summer. With COVID passing in the rearview, travelers are finding that rental cars and rental RVs are a precious commodity as we approach the summer travel season. 
Please note that BeginRV may earn a small commission if you rent from a link in this article.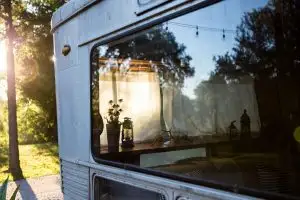 The New York Times recently ran an article that revealed these scary statistics for travelers in search of a RV rental this summer: 
Over 75% of people said they

plan to travel

in May, June and July alone!

RV rental prices are up 137% compared to the same time in 2019

Memorial Day RV bookings are already up 50% compared to same time last year 
If you are one of those people who haven't booked your RV rental yet you may be in for an unpleasant surprise. However, there is a solution to this RV rental shortage problem: RVezy.

What Is RVezy? 
RVezy is Canada's leading peer-to-peer or private RV rental service. Think of RVezy as the Airbnb of RV rentals. With Airbnb you rent housing from private owners – with RVezy you rent a privately-owned RV directly from the owner. 
The RVezy website and mobile app will introduce you to hundreds of private RV owners looking to rent out their RV to you in your region. You can spend time browsing through pictures and descriptions of a mind-blowing number of RV makes and models to find the one perfect for your trip. 
Want to hurry up and rent? CHECK OUT RENTAL AVAILABILITY NOW! 
How Do I Sign Up to Rent with RVezy? 
RVezy has both a website and a mobile app where you will rent your RV from. 
Setting up an account is 100% FREE, and the sign-up process with RVezy takes just minutes. If you plan on renting, you will be asked to become an "approved driver". RVezy's approved driver process asks you to submit: 
A copy of a valid driver's license stating you are over 25 years of age; 

Evidence of your recent driving record; 

Valid credit card.
RVezy's driver approval process is fast and easy as you will receive a confirmation email within minutes to grant your approval.
WANT TO GET STARTED RENTING YOUR RV? START NOW! 
For a list of issues that may cause you not to be immediately approved, you can check here. 
Does RVezy Operate in the United States?  
Yes! After successfully positioning themselves as the top private RV rental company in Canada, RVezy has taken it's super-easy rental model to the United States. You can rent an RV from private owners in most mid-size and major US cities. 
Does RVezy Have Anything Other Than Class C RVs? 
Yes! You can find almost any type of RV on RVezy. Unlike traditional RV rental companies that mostly offer Class C RVs, you will be able to choose from hundreds of different make and models with RVezy. 
You can choose from: Class A Motorhomes, Class B Motorhomes, Class C Motorhomes, Travel Trailers, Tent Trailers, Truck Campers, Fifth Wheels, Hybrid Trailers, Campervans, and more! 
The best thing about RVezy is you can customize your search to not only find a specific type of RV, but for specific details such as: 
Price range

Length

Weight

Pet Friendliness

Toilets

Air Conditioner; and more! 
Does RVezy Have Campervans? 
Of course! Campervans are the hottest type of RV rental on the market and RVezy has plenty for you to choose from.
The Campervan is incredibly popular among first-time RVers because: 
Similar driving to a car makes it less intimidating for beginners; 

Offers many of the same amenities as larger (but more expensive) RVs; 

Less vehicle maintenance, less buttons – less stress!  

Better gas mileage than other types of larger RV; 

Campervans are COOL! 
If you are looking for an RVezy campervan rental, just filter your search down to "Campervan" rentals and you will see the full list of what is available! 
Hurry up and get your Campervan rental today at RVezy!
Do I Get Insurance with My RVezy RV Rental? 
Yes! You will receive excellent and reliable insurance coverage as a renter with RVezy. 
RVezy provides up to $2 million Third Party Liability Coverage for Canada and up to $1million Third Party Liability Coverage for the United States for all qualified drivers and RVs rented through the RVezy website. 
The insurance fees will range depending on the type of deductible you choose but will generally start at $30CAD/USD a night. 
Does RVezy Offer 24/7 Roadside Assistance?
Yes! RVezy offers industry-leading 24/7 RV roadside assistance optional with every rental. The cost is a very reasonable price of $18CAD/US for this peace of mind while you are out on the road. 
What does the RVezy roadside assistance include: 
RV towing services

Septic blockage removal

RV Battery Assistance

Meal reimbursement ( up to $100) 

Taxi Reimbursement (up to $50) 

Hotel Accommodations (up to $400)

2 tows, up to 140 km each, from place of break down to the closest garage OR 1 tow up to 280 km to the closest garage for rentals in Canada

2 tows, up to 100 miles each, from place of break down to the closest garage OR 1 tow up to 200 miles to the closest garage for rentals in the US 
During the RVezy booking process, roadside assistance is pre-selected and the renter can choose whether or not to keep the roadside assistance option on their booking. 
Does RVezy Offer Delivery?
One of the best features of RVezy is the ability to have your RV rental delivered directly to your house or campsite. This feature, available on many rentals, is especially handy when you rent a trailer. 
RESEVE YOUR RVezy SUMMER RENTAL BEFORE IT'S TOO LATE!
Sometimes you will want to rent a trailer but don't have to worry about towing – or simply don't have the proper tow vehicle. The delivery option means that the trailer can be delivered directly to the campground or event destination where you are. 
Yes, it's that easy. 
Owners generally charge a fee that should include delivery, installation and pickup. Delivery fees can range from $75 for short distances to $250+ for longer distances or larger units. You can add delivery and this will be listed as an add-on that you can find on their listing.
To find RVs that can be delivered, simply filter for "Delivery" on the top of the result page.
What About RVezy's Customer Service? Good, Bad or Indifferent?
Unlike some of the other peer-to-peer RV rental platforms, RVezy is renowned for its accessible and friendly customer service.  Perhaps it's their Canadian roots, but RVezy has a responsive and friendly customer service team that is happy to help you with any RV rental questions. 
It's generally easy to get hold of a live customer service representative over the phone and reps seem happy and eager to answer any questions you may have.
Customer service gives you a good idea of how a company values its customers. More importantly, it tells you what will happen when things don't go exactly as planned – as they often do. 
RVezy vs. RVshare vs. Outdoorsy: Is There Any Difference?
While all the peer-to-peer RV rental platforms seem similar on their face, there are important differences you should note when choosing where to rent your RV from.  If you want to see our full comparison of RVezy vs. RVshare, you can check out our in-depth comparison.
Here are the main factors we would pay attention to: 
Customer Service

: Will your questions and issues be dealt with in a timely and friendly manner? Not all platforms are known for great customer service. 

Insurance

:  All these RV rental platforms offer insurance, but when an incident happens on the road not all insurance companies respond the same way. It's important to know

who

the insurance company is and their reputation in the market.

We can't speak for the others, but RVezy offers well-respected, industry-leading vehicle insurers.
Additional Fees

: While rental costs may appear less on private RV rental sites, you need to look at the additional fees and expenses that each platform charges. You may find additional charges such as: cleaning fees, service fees, insurance fees, roadside assistance charges, non-refundable deposits and others.

Customer Reviews and Experiences

: Read reviews from past customers that are

not

from the company's website. See what past customers have to say about their rental experience and get an idea of what your experience may look like. 
HURRY UP AND RESERVE YOUR RVezy RENTAL TODAY!
Conclusion
Get ready to see the travel industry roar back in Canada and the States. People are craving time outdoors and connection with others and the inventory of RVs will not be able to meet the demand. 
Supply will be limited. Prices will soar. The good news for you? There's still low-cost options available for travel. 
RVezy makes it insanely easy to rent an RV (its in the name after all!) Go ahead and browse the website and check out the inventory of high quality RVs. You maybe never thought of yourself as an RVer, but as we all know in this new, crazy world – things change. 
Easy Travel,