The day has finally arrived! After months of planning your RV trip, you've taken time off work, carefully charted your travel route, booked all your campsites, bought the latest gear, and circled all the most Instagrammable sites along the way. You load up your RV and take off down the road. Everything is going great then suddenly … TROUBLE! Your RV squeaks, squeals, and hisses before finally breaking down on the side of the highway. You need to find a mobile RV repair provider near you!
Now you're stranded on the side of the road, miles from the nearest repair shop. Chances are you can't fix the problem yourself, but you don't want to throw away thousands of dollars and ruin your entire vacation by having your rig towed back to the shop. 
Thankfully, there's a very good chance that there is a certified mobile RV repair provider near you. They will come to you to service your RV or camper, quickly getting you back on the road.  
Today, we are going to learn everything there is to know about mobile RV repair, including: 
Why Choose Mobile RV Repair? 
20 Questions to Ask A Mobile RV Repair Service 
5 Ways to Find A Mobile RV Repair Service Near You
Plus, we share our expertly researched list of 375 mobile RV repair shops around the United States. 
You never know when you will need mobile RV repair. The good news is we got you covered. 
Disclosure: BeginRV may earn a small commission or fee associated with the links in this post.   
Why Choose Mobile RV Repair?
Let's first understand why mobile RV repair is the right answer for your needs. Mobile RV repair services allow you to:
Have peace of mind by dealing with a certified, reliable service technician face to face 
Escape expensive towing fees and lengthy repairs made by less experienced mechanics 
Not have to worry about finding a place to sleep for several nights
Get your camping trip or vacation back on track fast and hassle-free
Let's dive into the pros of mobile RV repair.
Mobile RV Repair Services Come to YOU
You can't decide when to break down. You might be at a campground, stopped for a breather at a rest station, or parked for free overnight at a Walmart or Cabela's. The best part about calling a mobile RV repair service is that they are mobile. They come to you, wherever you might be.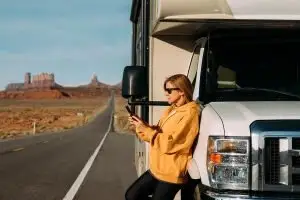 When you call a mobile service, they'll arrange a time to meet you where you are. Then they will drive out to your location in a truck or service van loaded with the equipment and tools needed for just about any job.
Keep in mind a mobile technician will not be able to work on major overhauls that would require the use of large equipment in a shop – such as chassis repairs or complete engine replacements.
Mobile RV Repair Offers Specific RV Service
You wouldn't go to a dentist to have your eyes checked – so why would you rely on a general mechanic to work on your RV?  
When you leave your RV or camper with a repair shop or dealership, you can't always be sure of who is working on it once they pull it into a bay and out of your sight.
Many businesses employ a team of general mechanics with one certified RV technician in charge. Sometimes there are several repair bays working on many vehicles at once, with only one certified technician overseeing them all.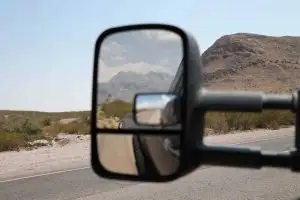 This can result in inexperienced mechanics making mistakes, doing a sloppy job, or overlooking something entirely.
With a mobile RV repair service, each repairman or repairwoman will likely be a certified RV technician often with years of professional experience working on RVs or campers.  
The best part is you will get to meet your technician face-to-face. You will know exactly who is working on your vehicle and you'll have the opportunity to ask questions or address any other issues right there on the spot.
Save on RV Repair Costs 
Brick-and-mortar RV dealerships and repair shops may require you to tow your RV or camper into the dealership. If you've ever had to tow, you know it can be very expensive and can damage your RV.  
Then there is the matter of paying for a hotel or motel in the event your RV is in the shop for multiple days. That alone may cost you hundreds, if not thousands, of dollars during the busy summer months. 
Brick-and-mortar businesses also have considerably more overhead to worry about when it comes to cost. Owners have to pay mortgages or rent. Shops need electricity and working utilities. Employees need paychecks. All of these expenses go into the customer's final bill. They aren't always transparent about their fees, either.
Mobile RV repair businesses don't have to worry about so much overhead and these savings are passed directly on to you. Their biggest expense comes from mileage, so be sure to call and ask them upfront about their rates.
Mobile technicians are also more willing to talk you through simple repairs if you have the tools and basic skills yourself. Many gladly do this for free!
Save Time With RV Mobile Repair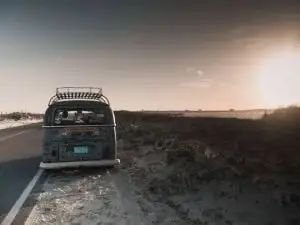 When you take your RV or camper into a repair shop, you're never quite sure how long it will take. You could be waiting a week or longer.
You may have only a limited number of vacation days. You really don't want to waste them holed up indoors in a tiny motel room or sleeping on a buddy's couch.
Mobile RV repair technicians specialize in getting you back on the road as soon as possible. Since they can only do one job at a time, this allows them to devote 100% of their attention to your needs, getting the job done right the first time.
Because mobile technicians work from their own vehicles, they do have a limited variety of repairs they can address. Your repair may take a little longer if they need to pick up or order a part.
Stay Close to "Home" 
For some of you road warriors out there, your RV or camper is your permanent address. You don't want to worry about finding a place to crash for several days, and you certainly don't feel comfortable leaving your entire livelihood in the hands of complete strangers. 
For you, a mobile repair specialist means you don't have to leave the vicinity of your home. You actually meet the person doing the repairs and get to stay nearby where you can keep an eye on things. 
20 Questions to Ask Before You Hire an RV Mobile Repair Service
With so many mobile RV repair providers out there, choosing a trustworthy service provider can be a daunting task. Simply typing into Google "Mobile RV Repair Near Me" and choosing the top name is a mistake you may come to regret when you end up spending thousands on unnecessary repairs.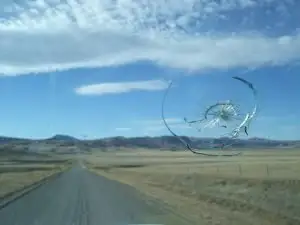 To make sure you don't make an expensive mistake, we are giving you our list of 20 key questions to ask before you use a mobile RV repair service:
Do they specialize in RV repairs?
Do they have good online service reviews?
What is their report with the Better Business Bureau?
Are they part of a national mobile RV repair chain?
Is the mobile RV mechanic properly certified?
How much experience do they have?
What does the RV community say about them?
Does the campground manager recommend them?
Do they have a business license?
Is the mobile RV repair business properly insured?
Is their equipment up to date?
What is their fee structure?
Do they charge for a diagnosis?
Do they accept debit or credit cards?
Can they process your insurance claim?
Do they honor warranties?
How is their customer service?
Do they help you understand your repair needs?
Do they give you a clear estimate?
Do they over or undercharge?
Streamline your RV repairs and avoid costly mistakes with these 20 tips for choosing the right mobile RV service provider.
#1: Do they specialize in RV mobile repairs?
RVs are pieces of machinery that are far more intricate and complicated than a standard vehicle. Mechanics that specialize in RVs will have dedicated their time and experience to understand the ins and outs of RVs and so are less likely to make mistakes that will cost you dearly down the road.
#2: Do they have good online service reviews?
Many of the mobile RV repair services featured in our directory have good to excellent ratings on Google. Take a good look at these reviews to determine what kind of service you can expect from a business.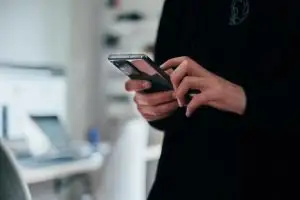 Negative reviews aren't always all bad. A good service responds to negative reviews and does its best to resolve the complaint. A good business will also thank reviewers for good reviews, showing they care about customer relationships.
#3. Are they in good standing with the Better Business Bureau (BBB)? 
The Better Business Bureau (BBB) is a non-profit organization that rates businesses with a letter grade based on their reliability and business performance. When you look up the name of a mobile RV repair business, you'll be able to see this rating as well as any complaints filed against it and if or how they were resolved. 
The BBB is not an all-inclusive organization. Wise consumers are urged to use them in conjunction with other business rating websites like Yelp and Angie's List to determine the overall reliability of a business. 
#4. Are they part of a national mobile RV repair chain?
Easy brand recognition encourages consumers to choose national chains. The problem with national chains is their higher employee turnover rate and higher overhead.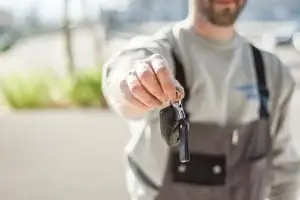 The hiring process costs a lot of money and the job of interviewing new mechanics usually falls to the head technician, meaning less time supervising the mechanics to ensure they're not rushing and doing a job correctly. This added cost trickles down to you and manifests itself on your bill.
#5. Is the mobile RV mechanic properly certified?
A reliable mobile RV repair provider should be a properly certified technician with one of the following certifications:
RVIA (RV Industry Association)
RVDA (RV Dealers Association)
NRVTA (National RV Training Academy)
RVSA (RV Service Academy)
These certifications ensure the technician has the knowledge, experience, and hands-on training they need to provide excellent service on your RV.
#6. How much experience do they have?
Professional technicians will have spent years specializing in RV repairs. They can offer the best advice and can clue you into problems that may arise further down the road. 
You can find out how much experience they have generally by taking a look at their "About" page on their website or looking at the quality of work displayed in photos.
#7. What does the RV community say about them?
A good mobile RV repair provider will have a good rapport with your fellow RV dwellers. Don't be afraid to knock on their door and ask them who they would go to in your situation. If anything, they can steer you clear of the scammers.
#8. Does the campground director recommend them?
Many campgrounds have a go-to repairman they rely on to provide their guests with excellent service. Even if they don't allow repairs on site, they are usually more than willing to refer you to repair service or shop that offers reasonable fees. Some mobile RV repairmen go so far as to offer a discount to the guests of campgrounds they regularly service.
#9 Do they have a business license?
Legitimate businesses in the U.S. are required to carry a business license. A good mobile RV repair service will not hesitate to give you their business license number. If they do, then they are likely not trustworthy.  
Once you have this number you can plug it into the BBB's website to look at their BBB rating and find out if they have any open complaints against them. Keep in mind the BBB is not infallible. It helps to check other resources to determine the true trustworthiness of any business.
#10. Is the mobile RV repair business properly insured?
Sensible business people are wise enough to know that no matter how much experience a mechanic has, mistakes happen. While you are on the phone, don't hesitate to ask if the mobile RV repair service is properly insured. 
Be sure to also ask what their policy is in case mistakes do happen. The last thing you want is to pay for someone else's error out of your own pocket!
#11. Is their equipment up to date?
The real pros will show up to work in clean work vehicles and carry an array of well-kept tools and up-to-date diagnostic equipment. 
You should be able to tell this from looking at their website photos, but it never hurts to ask. Technicians who take pride in their work love to talk about their latest equipment!
#12. What is their fee structure?
This is usually the first question everyone wants to know! Ask if the mobile repair provider charges a flat rate and/or mileage.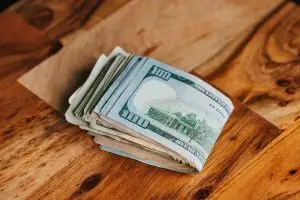 Expect to pay a little more if the technician needs to drive a great distance to reach you. The best mobile RV repair businesses list their fees upfront on their website or over the phone, but most do not.
#13. Do they charge for a diagnosis?
It takes a mobile RV technician time and mileage to come to you, and you're responsible for paying it. Make sure to ask if there is a fee for diagnosing a problem.
An excellent service will spend as much time on the phone with you to try and diagnose your issue. It also helps to ask if you can pick up a part yourself and have it ready for when the technician arrives. 
Better yet, you may discover you can fix the problem on your own – saving you BOTH time and money!
#14. Do they accept credit or debit cards?
The internet is littered with scam companies that want cash-only for their services or to buy parts. Then they don't show – leaving you high and dry with a broken vehicle and an empty wallet!
Never pay cash for mobile repairs. With a credit or debit card you can dispute a transaction or stop payment should the company fail to deliver the promised work.
#15. Can they process your insurance claim?
If you have insurance on your RV, it will really help your pocketbook to ask if the mobile repair service can process your claim. Not all small businesses are equipped to handle claims with all insurance companies.
#16. Do they honor all/any warranties?
RV repairs are expensive. Hopefully, you still have an active warranty. Not all small businesses are capable of honoring warranties, so this is something you will need to ask about. 
If your repair is covered under warranty, you'll want to file it with the warranty issuer BEFORE you have your RV serviced. Otherwise, you'll have to wait for the repair company to reimburse you, which could take several days or sometimes weeks.
#17. How is their customer service?
Great customer service equals great business. It means that the repair company cares for their customers and is committed to their work.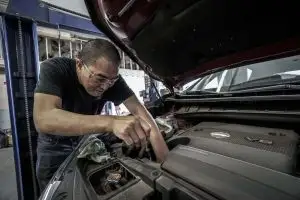 A good mobile RV repair service will respond quickly to inquiries, they will listen to your problems over the phone, respect your requests, and follow up with you to make sure you were satisfied with their work and make sure you have no further issues. 
There is nothing more frustrating than a rude receptionist, one who skates around questions or who constantly upsells products and services you don't need. You don't have to go with these types of businesses – stick to the ones who gladly treat you like family.
#18. Do they help you understand your repair needs?
A good mobile RV repair service will evaluate your problem and take the time to explain what the issue is, detailing each step of the repair process and the materials necessary to resolve it. 
Write these details down and then stick with them. This prevents you from paying extra for unnecessary repairs.
#19. Do they give you a clear estimate?
A good repair mechanic or technician will give you an estimate listing all repairs and parts that are needed, as well as costs. Keep this with you and be sure the technician sticks to this estimate when they come to you to do repairs.
When getting your estimate, also ask them about how long it will take them to make the repairs and if there are any parts you can pick up yourself (provided you can find them cheaper). 
#20. Do they charge a fair price?
Always shop around and compare prices when you can. Although the goal is to get the best "bang for your buck," services that offer unbelievably low prices are just as bad if not worse than those that overcharge. 
Businesses that are undercharging will likely shortchange you in quality as well. They may be using parts that are improperly refurbished, or they may not take the proper amount of time to do a job right the first time. Again, this will cost you more in the long run.
Find A Trustworthy Mobile RV Repair Provider
With RV repairs being so expensive and scammers on the rise, it's only sensible to take the time to research and ask questions before settling on a mobile RV repair service. Your RV is your baby, and your baby deserves the best service within your budget!
There are multiple ways to find a good mobile RV repair service near you. You can:
Search the internet. Thankfully, there's a very good chance that there is a certified mobile RV repair provider near you. They will come to you to service your RV or camper, quickly getting you back on the road. If you are a tourist or from out of the country, there is a chance that you will not be able to load a local site, so you can easily check here to access the local sites you need. 
Ask a fellow RVer
Ask the campground manager
Call a dealership or parts supplier
Check out local classified ads
Let's review 5 ways to search for one that's fair and reliable. 
Internet Search 
These days the internet is the immediate go-to when looking for any kind of service. A search for phrases like, "mobile RV repair near me," "on-site RV repair near me," "mobile RV repairman," or "mobile RV technician in (city or town)" will generate what you're looking for. 
However, as we said above, just don't search for mobile RV repair service and pick the top one on Google. It's critical to do your research! 
TIP: To find the most reliable mobile repair service online, take a look at Google's rating for the business and reviews from previous customers. Look at their website if they have one.
A well-built and informative mobile repair business website will have its services, contact information, and fees listed right up front. 
You can also check out their BBB (Better Business Bureau) listing to find out if they've had any complaints filed against them. 
Ask a Fellow RVer
Chances are your neighbors have had to deal with RV issues at some point and they will gladly point you in the direction of a dependable and trustworthy mobile repairman – or steer you clear of one who isn't. 
Your friends on the road are generally the first people to call when you have a problem. While online reviews can sometimes be misleading, word-of-mouth is still the most reliable way to choose a quality mobile RV service. 
Ask a Campground Manager
Even if the campground you're staying in doesn't allow on-site repairs, they can usually refer you to a good technician. Some have a favorite they rely on to take care of their patrons on a regular basis.
The good news is more campgrounds are adopting their own on-site service technicians. It's always a great idea to research the campground you plan to stay at, or give them a call and ask them if this is a service they offer. 
Ask a Local Dealership or Parts Supplier
Should an internet search turn up with nothing, it doesn't mean there is not a mobile RV repair provider in the area. 
Mobile mechanics rely on dealerships and parts suppliers to get the necessary equipment they need to run their business, and so develop solid working relationships with them. A quick call to one of these places can put you in touch with a trusted mobile technician in next to no time. 
Look at Classified Ads In the Local Paper
Once upon a time (when dinosaurs roamed the earth), the best way for a small business to get noticed was by advertising in the classified ads section of a local newspaper. 
While most of the world has gone digital, there are still locations that receive little to no internet reception. If you wind up in one of these "dead zones," you can still pick up a local classified ads paper at a nearby gas station or convenience store. Most of the time these papers are free. 
A quick thumb through the business classifieds will usually yield something; If not an actual mobile RV repair service, then at the least, a local RV dealership and you can go from there.
Mobile RV Repair Near Me: Your Ultimate List of Mobile Repair Shops In Your State
To help you find the help you need as fast as possible, we've spent months of research compiling a mobile RV repair directory of all 50 States.   
Using all the data points above, we researched the best mobile RV repair services complete with the following information: 
State
Name
Website
Phone No. 
Location
Service Area
We ask that if you use any of the data in this chart, you link back to this webpage or www.beginrv.com and do not edit or modify it in any form.
And remember, bookmark this article before you go on your next big adventure because you never know when you'll need a repair. 
Conclusion
There you go. The definitive guide to mobile RV repair. After reading this article you should now know: 
Why Choose Mobile RV Repair?
20 Questions to Ask A Mobile RV Repair Service 
5 Ways to Find A Mobile RV Repair Service Near You
375 of the best RV Mobile Repair providers across the United States 
As time goes by, we'll continue to update this article with more information and interviews with RV repair professionals that help you solve particular RV repair problems. 
I am so thankful for our loyal readers. Please leave comments, tips or suggestions in the comments area below. If you are a mobile RV repair service provider and you would like to help further the discussion, please feel free to reach out for a chat! 
      Until next time. Easy travels,